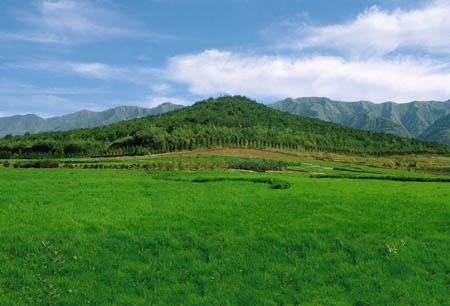 The mausoleum of China's first emperor Qinshihuang, near which the world-famous terracotta army was unearthed, would stay underground in peace in the foreseeable future, a leading expert said. 
 "I would not witness the excavation in my life. In the foreseeable future the mausoleum will maintain the status quo," said Prof. Cao Wei, deputy curator of the Museum of the Terracotta Warriors and Horses of Qinshihuang.
Chinese researchers in 2002 confirmed that there was a huge underground palace in the mausoleum by using remote sensing and geophysical exploration technologies, which Cao said did no harm to the mausoleum. 
 The Shaanxi government is planning to set up a 2.9-square-km theme park of the Qinshihuang mausoleum site and a museum of bronze chariots unearthed near the mausoleum of Emperor Qinshihuang.
The 2,200-year-old mausoleum was discovered in Lintong county, 35 km east of Xi'an, in 1974 by peasants who were digging a well. The Chinese terracotta army buried around the mausoleum was one of the greatest archeological finds of modern times.
More than 1,000 life-size figures were found, representing the Emperor's army and including officers, horses, archers, and chariots. No two soldiers in the army are alike. Each of the sand-colored statues has a different facial expression and hairstyle, and craftsmen are believed to have modeled them after areal army.
The discovery of the terracotta army, listed as a world heritage site by UNESCO since December 1987, has turned Xi'an, capital of the northwestern Shaanxi Province, into one of the nation's major tourist attractions.
 A museum opened in 1979 which covers the original excavation site leaving the repaired soldiers in the place they were found. It has since received about 60 million visitors, including at least six million from abroad.
Emperor Qinshihuang ruled from 221 to 207 B.C. It is believed there are a large quantity of historical cultural relics in his mausoleum.