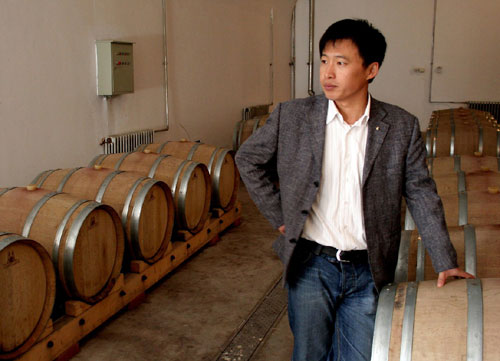 Zhao Desheng (30) says wine is in his blood. His dream is to establish a vineyard and produce local wine to his own style. 
At 30, Zhao Desheng is living the dream of any winemaker. As vice-general manager of Hebei's Sino-French Chateau Wine Company, he has witnessed every harvest since the first vines were sown in 2003. Educated by the connoisseurs of winemaking at Ecole Nationale d'ingenieurs de Travaux Agricoles in Bordeaux, Zhao is charged with developing not only a new economy for the Middle Kingdom but also tempting the Chinese palette to the allure of wine. A quest he joyfully pursues.
How did you become interested in viticulture and winemaking?
I majored in viticulture when I was at college so I've been close to wine for a long time. Before I studied, wine was a rarity in my family or the people I knew – they just drank beer. My interest deepened when I got the job with the winery and travelled to France to study.
It sounds like France was an exciting challenge for you?
Yes, it was a great time in my life. Apart from the advanced techniques in viticulture and wine making, my experience also presented me with sophisticated wine philosophy. I think China and other developing countries badly need this if they are to get ahead in the field. Wine making has many layers, all needing careful attention.
When it comes to wine, what is your personal favourite?
Probably due to my time in Bordeaux I've come to enjoy wines from the remote Médoc region. The red wines are brewed with many different varieties of grape, which combines all their good qualities. They have complicated structures but have a good balance.