Painter brings 'little monks' to Shanghai Yufo Temple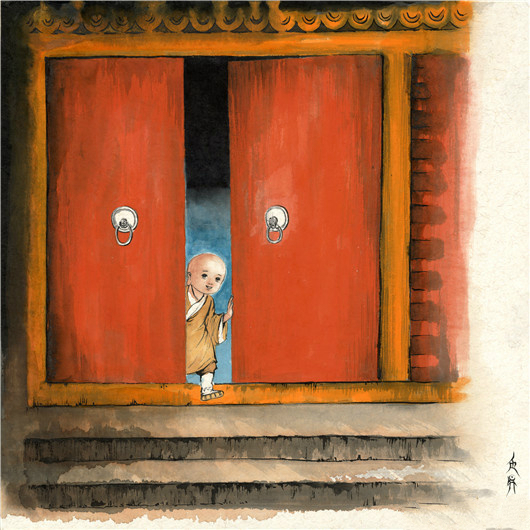 Quan Yingsheng's "little monk" series. [Photo/Official Weibo Account of Shanghai Yufo Temple]
Painter Quan Yingsheng's series of little monks always makes people smile.
Each of his ink paintings usually portrays just one little monk. In one piece, a little monk is walking out of the door of a temple. In another, a little monk puts a hat on a Buddha statue in the rain.
It is hard not to feel the quiet joy conveyed by these paintings.
Shanghai Yufo Temple exhibited Quan's works on July 15, showcasing 80 ink paintings of little monks. Quan was also authorized by the temple to paint 18 new paintings of little monks from Yufo Temple.
As a painter specialized in traditional Chinese ink paintings, Quan is also interested in comics, animations and computer games. He tries to recreate Chinese ink paintings through an infusion of modern arts. He came up with the idea for the "little monk" series, based on Zen theory, in 2003.