China leads global art market amid world gloom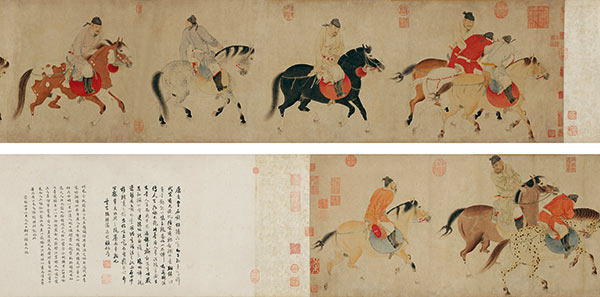 Five Drunken Kings Return on Horses, by Ren Renfa [Photo provided to China Daily]
China has overtaken the United States as the world's largest art market amid a sharp drop in global art sales, according to an annual report released by France-based website Artprice.com on Monday.
The report found that $12.5 billion worth of art was sold at art auctions across the world in the last year, a 22 percent decline from $16.1 billion of sales in 2015. Art sales in China reached $4.8 billion in 2016, accounting for 38 percent of the world's gross.
China had been the leading art sales market since 2010, before it was overtaken by the United State in 2015.
According to the report, traditional Chinese paintings and calligraphy comprise the majority of China's art sales. The highest price fetched at a Chinese auction in 2016 was $45.9 million for a scroll painting by Yuan Dynasty painter Ren Renfa called Five Drunken Kings Return on Horses.
The report noted that Chinese artists were the biggest moneymakers at auctions, with three Chinese artists on the list of top five profitable artists.
Chinese artist Zhang Daqian attained the highest price, ahead of Pablo Picasso and other Chinese artists Qi Baishi and Wu Guanzhong.
Hong Kong has become an unmissable destination on the contemporary art map as auctions are held increasingly frequently there, the report stated.
Related: