Chinese painting class debuts at Moroccan art school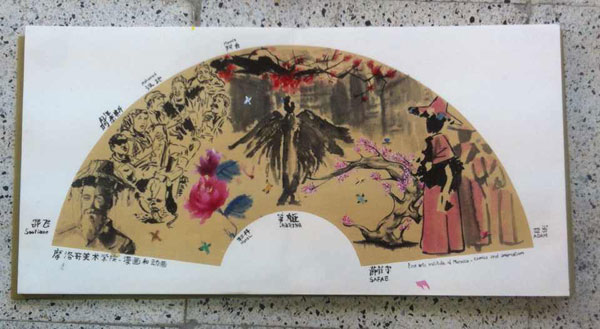 A Chinese painting created by students at Morocco's National Academy of Fine Arts. [Photo/Chinaculture.org]
A Chinese painting course given by celebrated Chinese painter and art teacher Xu Qiping debuted at Morocco's National Academy of Fine Arts in November, which was well-received among local students.
After the 20-day session from Nov 6 to 26, a special exhibition, featuring over 30 pieces by the art students and also Xu's masterpieces of traditional Chinese painting, were displayed at the 100-year-old art school in Northern Morocco's Tetouan, attracting crowds of local artists and collectors.
The artworks were created using Chinese ink brushes and Xuan paper - a special type of paper made for traditional Chinese large-scale painting and calligraphy.
During her month-long stay, Xu taught the students how to use the ancient painting tools dating back thousands of years.
Xu was appointed as a guest teacher by the Chinese Culture Ministry at the invitation of Morocco's Ministry of Culture, as part of the activities to boost art exchanges between the two countries. Xu has become the first Chinese painting artist ever to teach at the university.