Fresh-faced art
A mask maker brings an ancient craft into the contemporary market, Zheng Jinran reports in Gu'an, Hebei province.
It's a traditional Chinese art, but the facial makeup of Peking Opera is finding a modern renaissance with the magical touch of Jiao Yingming.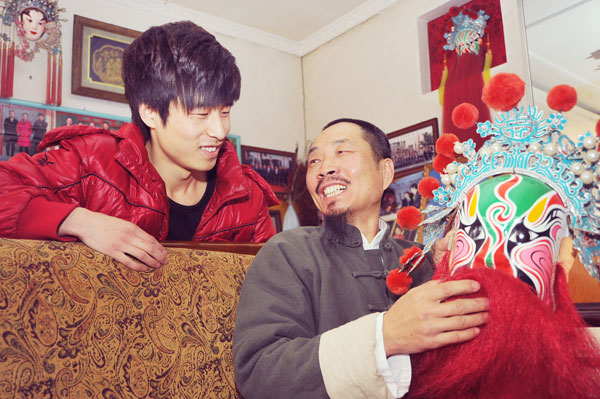 Jiao Yingming and his son Jiao Xuefeng have carried on the family's connection with Peking Opera in their prosperous mask-making business. Yang Shiyao / Xinhua
His small workshop produces more than 500,000 Peking Opera masks every year. These reproductions of facial makeup are crafted from different materials, such as paper and crystal stones. At least 60 percent are sold abroad to about 30 countries, including the United States, Britain, France, Australia and South Korea.
"We usually get orders for thousands of masks six months ahead of Christmas," says the 49-year-old man from Gu'an county of Langfang, Hebei province.
His workshop has recruited about 40 people to meet the flood of orders every year. In 2012, the net income from his business reached 1.5 million yuan ($244,500).
To appeal to foreigners and young people in China, he has made innovations in the designs and the use of materials.
The facial makeup used in Peking Opera stemmed from performances that can be traced back 1,400 years. Different colors of makeup, as well as the various facial expressions, represent different characters, personalities and fates of the roles.
Traditionally, Peking Opera masks are made of plaster, and it usually takes three years before they are dry and hard enough to paint like makeup.
The painting takes two days, starting with the base color (usually white), then outlining sections before filling them with colors (mainly red and black). Finally, the "makeup" is covered with a special latex coating to protect the bright color for a long time.
"It's time-consuming," Jiao says. "It's not efficient to produce a large amount of products in months," adds the man who had his first products sold in the US in 1987.
Jiao started to make the masks on paper or resin. In addition to the traditional form of masks, he created other products from paper for hanging, incorporating crystal stones for decoration and small light ornaments for Christmas trees.
His mask business has become an industry, including crafting and packing the products, bringing thousands of jobs for residents in neighboring counties.
Related:
Inspiration from out of this world