Exhibition showcases China's finest brocade in different dynasties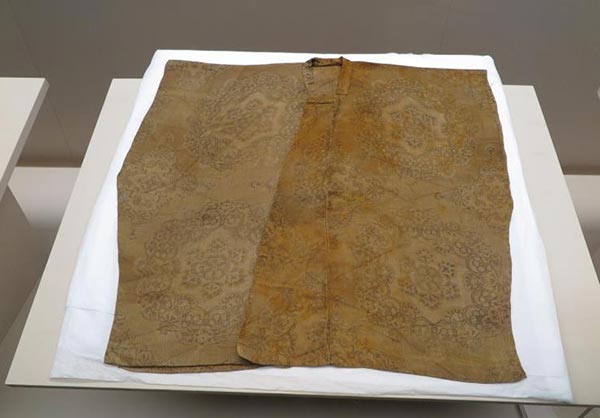 The remnant of a garment of the Shu Brocade dating back to the Tang Dynasty (AD 618-907). [Photo by Huang Zhiling/www.chinadaily.com.cn]
The first floor of the Chengdu Museum in the heart of Chengdu, capital of Southwest China's Sichuan province, has been thronged with visitors admiring the famous piece Water Lilies by French impressionist painter Claude Monet since it went on display Sept 27.
The piece, which has been insured for the hefty sum of 200 million yuan ($30,143,180), is part of a modern and contemporary French art exhibition that will be on show until Dec 15, said Xiao Feige, a museum information officer.
But visitors will have a pleasant surprise on Tuesday as they will be able to see the finest works of silk fabrics from all four schools of Chinese brocade.
From now until March 4, an exhibition on the Shu Brocade in Sichuan, Song and Yun brocades in East China's Jiangsu province and Zhuang Brocade in South China's Guangxi Zhuang autonomous region will be held in the Chengdu Museum.
Organized by the Chengdu Museum and Chengdu Shu Brocade and Embroidery Museum in Sichuan, Suzhou Silk Museum and Jiangning Weaving Museum in Jiangsu and the Guangxi National Museum in Guangxi, the exhibition marks the first time in the country that five museums are showcasing Chinese brocade together, according to Huang Xiaofeng, an official with the Chengdu Museum.
Museumgoers will experience the luminous past of China's silk sector through some 140 pieces of brocade.
"They can see the remnant of a garment made of Shu Brocade dating back to the Tang Dynasty (AD 618-907), replicas of dragon robes of the Qing Dynasty (1644-1911) made of the Yun Brocade, a replica of the court dress of an empress of the Northern Song Dynasty (960-1127) made of Song Brocade in line with her dress in an ancient painting and the daily necessities the people of Guangxi made from Zhuang Brocade," said Zhang Jianfeng, a museum visitor.