Ge porcelains on display at Palace Museum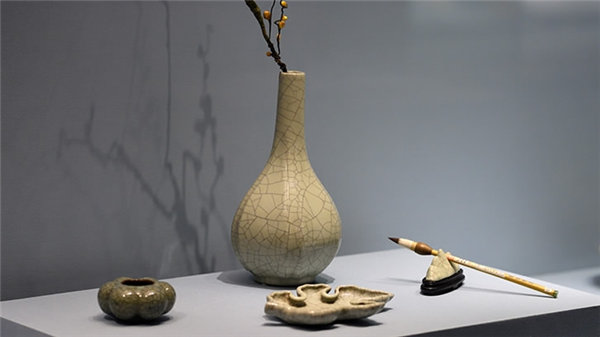 A set of Ge ware artifacts. [Photo/dpm.org.cn]
Ge ware artifacts are on exhibition inside the Palace Museum's Palace of Prolonging Happiness, to showcase the glamorous porcelains of the ancient great kiln.
The Palace Museum's collection of 113 authentic and copied Ge porcelains are on display, as well as 57 other artifacts - including ceramics, porcelain chips and repaired antiques - from six other Chinese museums and cultural relic institutions, to give a panorama of the style.
The exhibition, which runs until late August next year, consists of three units: extant and unearthed Ge porcelains, the unknown location of the kiln and its influence on the porcelains followed.
Known as "gold thread and iron wire", existing Ge ware artifacts generally feature surface cracks varying in size and depth, and are glazed thickly in lustrous colors of bluish-gray, light greenish-blue and cream.
As for the Ge kiln site, scholars hold varied theories due to the uncertainty of the exact location. Legends recorded in documents from the Ming Dynasty (1368-1644) suggest that the kiln is named after the elder brother of the director of the Longquan Kiln.