Qing clothing highlights connection with faith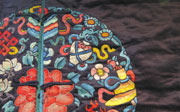 Patterns of auspicious symbols on an ancient gown. [Photo provided to China Daily]
Cao Jian, a collector of some of the clothes for the exhibition, also the owner of Tru-Space, says the show was held to show the importance and beauty of ancient Chinese costume.
"Culture and daily life are closely tied, and we wanted people to have access to appreciate our heritage," Cao says.
Du Jiayi, curator of the exhibition, has the same vision as Cao.
Du, who is majoring in illustration visual media at University of the Arts London, picked eight clothes of the ruling Manchu and two from Han people at the time for the show.
"Usually people see clothes from the Qing Dynasty in museums, but I also wanted to show some clothes of that time from common people," says Du, 24.
"It's actually a fusion of Manchu and Han and you can recognize the mixture of the patterns in the clothes of both races."
Fang says: "Besides ethnic fusion, the clothing from the West introduced to China is the reason that the costume changed from loose to slim in the late Qing Dynasty."
The development of modern clothing in China has followed a cycle.
"After being popular for a few years, the trend comes back even if not directly," he adds.
The show was held from Sept 20 to Nov 10.