Qing clothing highlights connection with faith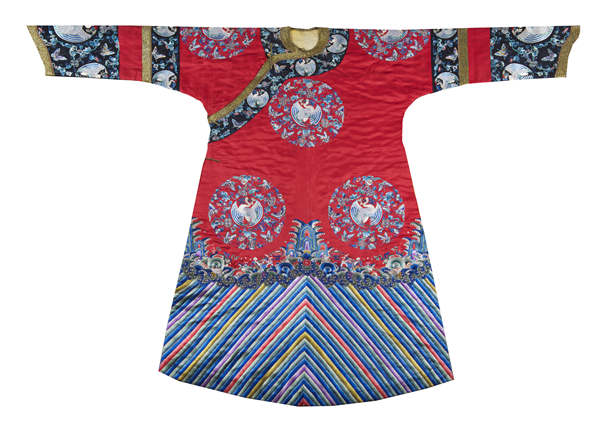 The patterns of the sea and rugged cliffs are the main features of a Qing Dynasty gown. [Photo provided to China Daily]
After having being designed by a queen or imperial concubine, the tailor who worked outside the palace would start to sew such a gown. Each piece could take a garment maker several months of needlework. The suture of the gown would be completed by the tailor at the palace right before the owner wears it.
"For different celebrations, the queens and imperial concubines would wear different such gowns," Fang says. "They would also wear a matching jifupao (auspicious robe) with the same pattern as the main gown."
"The gown had to be in blue, while the robe could be in any color."
A red robe from Emperor Guangxu's reign (1871-1908) was also on show at TruSpace, and its crane medallion pattern illustrates it was worn for birthday celebrations.
"The purple color on the red 'auspicious robe' was only used in late Qing Dynasty."
Fang explains experts now can identify the time of Qing clothing through patterns, colors and fabrics.
"From the Ming Dynasty (1368-1644) to the Qing Dynasty, the style and color turned from calm and solemn to complicated. In late Qing, more saturated colors were used."