New clothing brand fuses art into fashion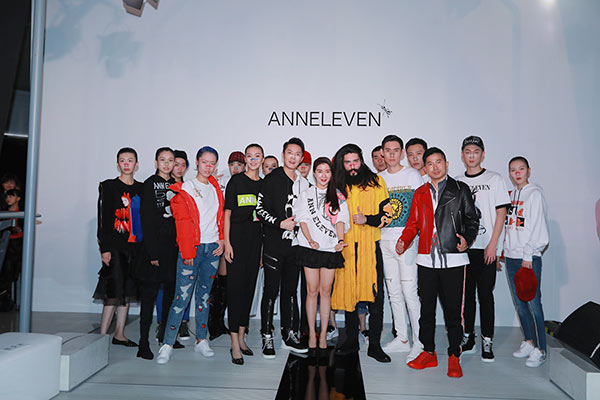 The founder of Ann Eleven An Shiyi (center) and Zhang Yazhou (third from right), a main designer with Ann Eleven, pose for photos with models at a fashion show in Beijing, Nov 5, 2017. [Photo provided to chinadaily.com.cn]
A new fashion brand, Ann Eleven, held its debut show during China Fashion Week on Sunday night at Parkview Green mall in Beijing, with the theme, "Art is in the Air".
Unlike traditional brands, Ann Eleven fuses Chinese contemporary artists' works into its design, and uses special materials to hand paint them onto the clothes, which reflects a spirit of craftsmanship.
"We are not just putting the artworks on the clothes, but actually we are recreating artworks in this way", brand founder An Shiyi said. "Our clothes are purely handmade with unique designs, which caught many celebrities' attention."
Ann Eleven offers two fashion lines, with one targeting high-end customers, with each design limited to 99 pieces, and the other targeting average shoppers with moderate prices. "We are designing good-looking clothes instead of art clothes, and we want common people to enjoy our designs too", An said.
The fashion show opens with a child playing with a T-shirt, which expresses its brand message of "I'm just a kid". It's inspired by Pablo Picasso's quote, "It took me four years to paint like Raphael, but a lifetime to paint like a child". An Shiyi said she wants her brand to always stay true to the original heart, to be pure and hopeful like a child.
"No matter designers or common people, we should cherish a childlike innocence, to explore new things in life", said Liu Shuai, who is on the Ann Eleven designer team.
Ann Eleven is poised to collaborate with other brands home and abroad, and its stores will be opened in Beijing, Shanghai, Paris, Milan and London in the future, said An, who also is an artist and an art curator. She started to learn oil painting at five years old, and graduated from the École Nationale Supérieure des Beaux-Arts de Paris (ENSBA).
Ann Eleven is a derivative clothing brand under TRYART, an art retail platform concentrating on the creation and sales of print art.
Related photos: 2017 China Fashion Week: Ann Eleven