BBC Earth Films launches 'Earth: One Amazing Day' in China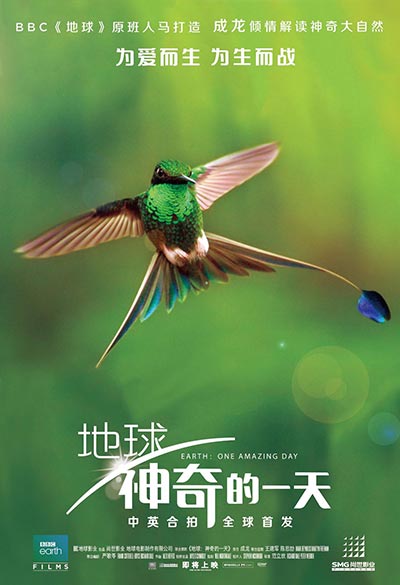 Poster of Earth: One Amazing Day [Photo/Mtime]
Earth: One Amazing Day, the follow-up to Earth: The Movie, has just been launched in China. The latest documentary by BBC Earth Films was co-produced by several Chinese filmmakers under the UK-China production treaty.
Traveling through the continents, oceans and across skies, Earth: One Amazing Day reveals the awesome power of the natural world from sunrise to sunset, using cutting-edge filming technologies.
The feature film is not just breaking new technological ground for BBC Earth Films, it is also the first international natural history documentary to be fully released in China. The film is believed to have been inspired by an increasing interest in nature in Asia, especially among the younger generation.
The directing team is made up of documentary director Richard Dale and Peter Webber, the director famous for Girl with a Pearl Earring, as well as Chinese Emmy award-winning documentarian Fan Lixin.
At Tuesday's launch, the Chinese director shared his experiences while shooting the rarely seen white-headed langur monkeys in the mountains of southwestern China.
"For example, when our team was filming the white-headed langur in Chengdu mountains in China, the crew used heavy drone flights to try to get the most stunning picture up close with the monkeys climbing up the steep cliff. In order to do that, they flew almost 20 days without filming a single frame just to habitualize the white-headed langurs with the noise of the drones. So we can see a lot of effort and technical creativity went into the production," Fan Lixin says.
The cherry on top came when Hong Kong martial arts legend Jackie Chan was cast as the narrator for the documentary's Chinese-language version. Chan says he's a huge fan of animals and went all out during the six-hour long uninterrupted voiceover process.
"I didn't learn from anyone about voiceover skills, except the pronunciation for some of the characters in standard Chinese. I narrated based on my own understanding and tried to be as natural as I could," said Chan.
Earth: One Amazing Day took over four years to plan and three years to make. The feature film will premiere in Chinese cinemas on August 11th.
Related: Jackie Chan to narrate BBC Earth documentary