Jackie Chan to narrate BBC Earth documentary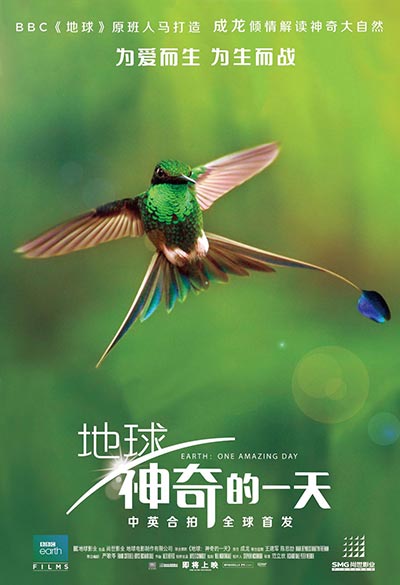 Poster of Earth: One Amazing Day [Photo/Mtime]
China's kung fu superstar Jackie Chan will become the voice of nature documentary Earth: One Amazing Day for Chinese audiences.
Earth: One Amazing Day, directed by Peter Webber (The Girl with the Pearl Earring) and Richard Dale (The Human Body), is the sequel to BBC Earth Film's Earth (2007).
The documentary is set to delve into creatures that inhabit our planet and take audiences on an immersive voyage on life in the wild, across the continents. The unique habitats and characters of 38 wild animals, including hummingbird, narwhal, marine iguana, are featured in the film.
Aside from highlighting the majesty of life, the film will also showcase cutting-edge technologies, including 4K cameras, low-light filming and eight rotor helicopters, to take footage of life from unseen angles and perspectives, as never seen before.
BBC and China's SMG Pictures partnered to produce Earth: One Amazing Day, which is now in its post-production stage. China's Fan Lixin co-directed the film. Author and screenwriter Yan Geling, who has penned bestsellers Flowers of War and Coming Home, contributed to the Chinese narrative script, as was music producer Roc Chen, the Chinese music consultant on Kung Fu Panda 3.
"Robert Redford and Jackie Chan each lending their voices to the film is the icing on the cake for what is already a formidable international talent lineup on this world class film," producer Stephen McDonogh said. "Their storytelling will further captivate the hearts and minds of audiences, by bringing them closer to wilds of nature in this extraordinary cinematic journey across the natural world all in a single day."
Renowned director and actor Robert Redford, also the founder of Sundance Film Festival and an environmental activist, is to narrate the English-language release, while Chan will narrate in Mandarin.
The first Earth recorded $112 million at the box office. Earth: One Amazing Day is scheduled to premiere in Beijing on Aug 1.