Foreign filmmakers capture Ordos for wider audience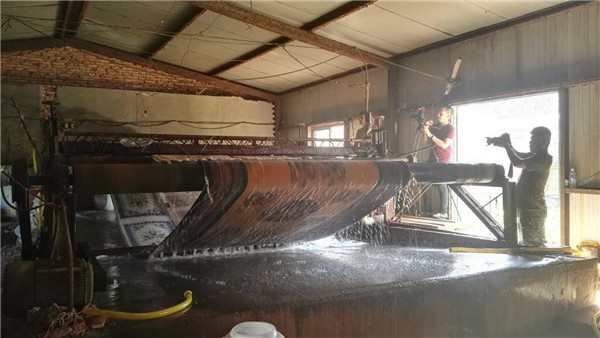 Nay Htet, a director from Myanmar, does a film on Mongolian clothes and headwear. [Photo by Hao Fei/China Daily]
Five foreign filmmakers explored craftsmanship in Ordos, Inner Mongolia autonomous region, by shooting short films in the city earlier this month as part of the Looking China Youth Film Project, an annual event organized by the Huilin Foundation and Academy for International Communication of Chinese Culture at Beijing Normal University since 2011.
The event is intended to promote Chinese culture travel more widely through the cameras and perspectives of foreign filmmakers.
This year's young directors and camera crew are from Cambodia, Laos, Thailand, Myanmar and Malaysia. With the help of Southeast Asia Broadcasting Center of China Radio International and Ordos New Media Center, they spent about two weeks in Ordos and nearby areas for their projects.
Their tour focused on craftsmanship in Ordos as revealed through the various skills of its people, including growing trees to prevent desertification, enhancing art forms such as traditional songs, making carpets by hand, decorating wood with burn marks, and making Mongolian clothes and headwear.
Chansey Phan, a film director from Cambodia, says he liked his crew to call him by his Chinese name, Pan Jiangshui.
His film tells the story of a worker who has been planting trees in Kubuqi, a large desert in Ordos, for about 15 years and contributed to the city's efforts to combat desertification.
He had to go to the windy desert every morning and stay there until late at night to document the worker's life and capture the desert's sights.
Phan says the worker's persistence touched him and the desert's vast beauty amazed him.
"The task was challenging but full of joy," he says.
Wee Your Lee, a filmmaker from Malaysia, chose pyrography as his subject. He filmed a veteran in Ordos decorating wood with burn marks.
"It will be a pity if the art dies," says Wee. "I hope that through my lens, more people around the world will learn about the art and support its preservation."
Tee Inthilard, a cameraman for MV Lao Television in Laos, chose Gurduu, an ethnic Mongolian music form, for his film. "The music goes through the heart. It's so amazing," says Inthilard.
All the films were shown in Ordos on July 11 and a selected few will be screened internationally later.
Contact the writers through heshuang@chinadaily.com.cn