US students present Chinese opera, poetry to qualify for tough contest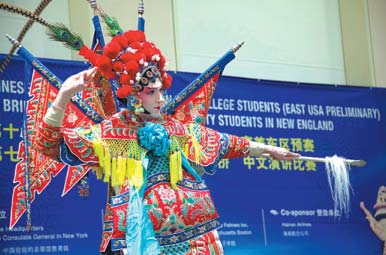 Daniel McMonagle performs Peking Opera at the Chinese Bridge preliminary in the United States. [Photo Provided to China Daily]
Chinese Bridge has drawn nearly 1 million contestants in the past decade as the largest Chinese-language competition for foreign students in China.
The test is not of language skills alone but also of the students' understanding of Chinese culture.
The finals for this year's contest, the 16th since it started in 2002, will take place in Changsha, capital of Hunan province, in July. Many preliminaries have already been held.
Around 150 contestants from different countries have qualified for the final.
Daniel McMonagle, who topped the East United States preliminary in April, displayed his talent through Mu Guiying Takes Command, a popular Peking Opera performance.
Having studied linguistics and the Chinese language at Binghamton University, McMonagle learned the traditional Chinese art form at the Confucius Institute in his university.
"The Confucius Institutes in other universities don't have such courses," McMonagle says.
He started to learn Peking Opera in 2016 because the opportunity appealed to him.
"I thought, 'Why not give it a try?'"
Founded in 2009, the Confucius Institute of Chinese Opera at Binghamton University is the first such place to offer Chinese-opera lessons through cooperation with the National Academy of Chinese Theater Arts in Beijing.
There are 67 Confucius Institute venues around the world that offer a range of subjects other than language, from traditional Chinese medicine to martial arts.
Fluency in the Chinese language and his Peking Opera play won McMonagle a ticket to the final, and also a 10-day cultural tour of Beijing, sponsored by a Chinese airline.
One other US student has qualified for the July round of Chinese Bridge.
At the East United States preliminary, Elizabeth Murray recited On Leaving Cambridge, a poem by the late Chinese poet Xu Zhimo.
Murray, who grew up in California, learned Chinese from kindergarten up to high school because her parents thought the language would benefit her in the future.
"I forgot many words and grammar, but the (Chinese) poems remained (with me)," Murray says of her inability to pursue Chinese-language studies for a while after school.
"On Leaving Cambridge is a beautiful poem," she says, adding that it makes leaving a place easier.
Last year, Murray left California to study electrical engineering at Massachusetts Institute of Technology, where she also enrolled in a Chinese course.
In addition to places of academic interest, the contestants of Chinese Bridge get a chance to visit the Great Wall and the Summer Palace in Beijing.