Almodovar to chair jury of 70th Cannes Film Festival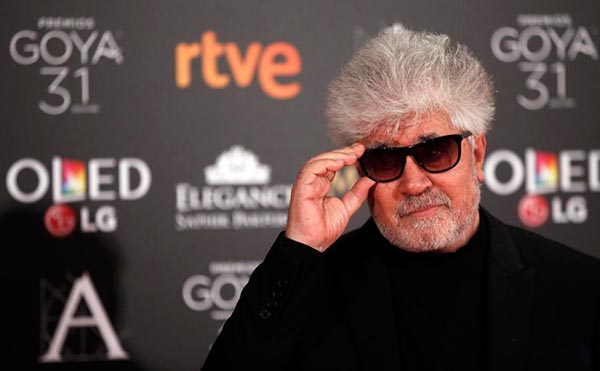 Pedro Almodovar poses on the red carpet at the Spanish Film Academy's Goya Awards ceremony in Madrid, Spain, February 4, 2017. [Photo/Agencies]
Pedro Almodovar, renowned Spanish film maker director and producer, will preside the jury of the 70th Festival de Cannes due to take place from May 17-28, the organizers announced on Tuesday.
"For its 70th edition, the Festival de Cannes is delighted to welcome a unique and hugely popular artist. His works have already carved out an eternal niche in the history of film. A long and loyal friendship binds Pedro Almodovar to the Festival," the organizers said in a statement.
Almodovar, has been seen an icon of Spanish cinema, as he won the best foreign film Oscar in 1999 for his All About My Mother drama, which also won him best director at Cannes festival.
His four other films, namely Volver (2006), Broken Embraces (2009), The Skin I live in (2011) and Julieta (2016), have also been selected in Cannes festival's official competition. But, the Spanish director has never taken its top prize, the Palme d'Or.
Born to a farming family in a small, dusty town south of Madrid, Almodovar bought his first camera at 22 when he started making his short first films.
"I am very happy to be able to celebrate the Festival de Cannes 70th anniversary from such a privileged position. I am grateful, honoured and a bit overwhelmed," said the 67-year-old film director.
"I am aware of the responsibility that entails being the president of the jury and I hope to be up to the job. I can only tell that I'll devote myself, body and soul, to this task, that it is both a privilege and a pleasure," he added.
This year's edition of Cannes festival will raise its curtain on May 17. The rest of the jury and the films that will make up its official selection will be announced mid-April, organizers said.
Related: