Opportunity of a lifetime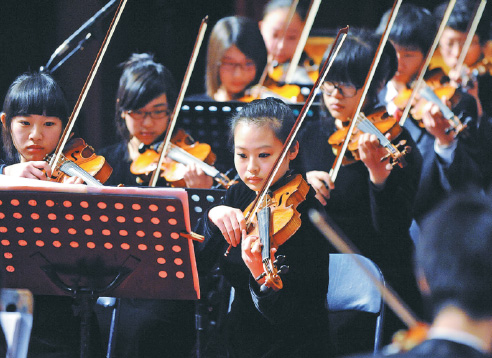 Young Chinese musicians will have another opportunity to perform on the world stage, with the launch of NYO-China, an orchestral program for the country's musically talented teenagers. [Photo/VCG]
Music director and conductor Cai Jindong always reminds his students that it is a privilege to express one's feeling through instruments.
The Chinese-born musician, who moved to the United States in 1985, initially for his graduate studies in music, joined the Stanford faculty in 2004, and has since worked as the director of orchestra studies there as well as the artistic director of the Stanford Youth Orchestra.
Cai, who was born in Beijing, received his early training in China, where he learned to play the violin and the piano.
He maintains strong ties with his home country, keeps visiting and conducts several top orchestras in China.
This year, he returned to Beijing on a special mission, which is expected to bring change in the lives of many young musicians in China.
It all started in the summer of 2015 with the visit of a group of young American musicians to China.
The visit triggered the founding of NYO-China, an orchestra for musically talented Chinese teenagers.
NYO-China is sponsored by the US-China Youth Education Solutions Foundation, the brainchild of Chinese-American music educators, including Cai, its artistic director. Its name is inspired by Carnegie Hall's NYO-USA.
NYO-China held its first audition in December 2016, and the NYO-China program offers around 100 high school musicians the opportunity to participate in a two-week training program on a university campus in northeastern US, under a group of world-class teachers, including French conductor Ludovic Morlot, and Cai himself.
In July 2017, NYO-China will embark on a concert tour of the US and China, starting with a performance by pianist Wang Yuja at Carnegie Hall.
According to Cai, Chinese music students are intelligent. "They have very good technique, but most lack ensemble experience.
"And ensemble experience helps musicians discover how people work together," says Cai.