A new album offers a classical treat for clarinet lovers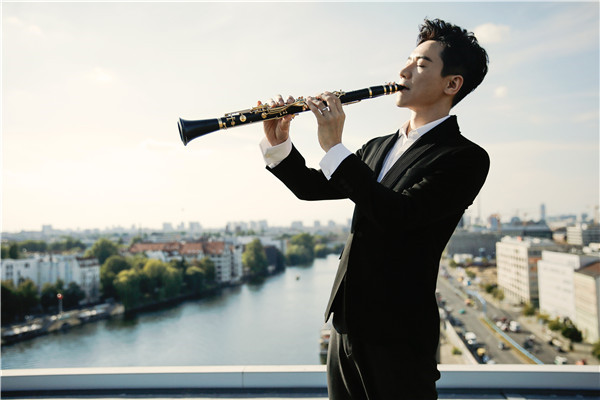 Clarinetist Wang Tao has just released his first classical album, Schubert, and will start a national tour in March. [Photo provided to China Daily]
Clarinetist Wang Tao is very excited these days.
He recently released his first classical album, Schubert, which he says is a milestone.
"This is the best album I have released. I feel like a retired athlete who has got an opportunity to take part in the Olympic Games," the clarinetist says in Beijing.
"I am so excited to release a classical album with the renowned Deutsche Grammophon label."
Despite his modesty, Wang is no underachiever. The clarinetist, who has won many titles and awards, is the first musician in China to receive a master's degree in clarinet from the Central Conservatory of Music in Beijing, a top music school in the country.
He also has 10 crossover albums that are used as teaching material at the conservatory, and he has won a best instrumental-album award from the Golden Melody Awards in Taiwan.
For the new album, Wang selected some of Schubert's most beautiful melodies from both vocal and instrumental works and arranged them for clarinet, including Auf dem Wasser zu singen (To Sing On The Water), D. 774, Ave Maria (Ellen's Gesang) D. 839, and An die Musik (To Music), D.547.
He also adapted Schubert's Sonata for Arpeggione and Piano In A Minor, D. 821, a piece Wang had listened to hundreds of times as a student.
Swiss pianist and harpsichordist Michel Kiener joined Wang to record the new album at the Salle de Musique of La Chaux-de-Fonds, a famous concert hall in Switzerland.
The collaboration with Kiener, who was awarded the first prize at the Brudges International Harpsichord Contest in 1977 and teaches at the Geneva Conservatory of Music, was both a challenge and source of inspiration for Wang.
"Both of us had our own ideas about Schubert's music. One day, we stopped recording and drove two hours to a lake. The lake sparkled under the sun as we talked for a long time," says Wang.
"I usually exaggerate the emotion in the music, but he told me that even the sadness should be beautiful."