Qi version of 'Analects of Confucius' discovered in Haihunhou tomb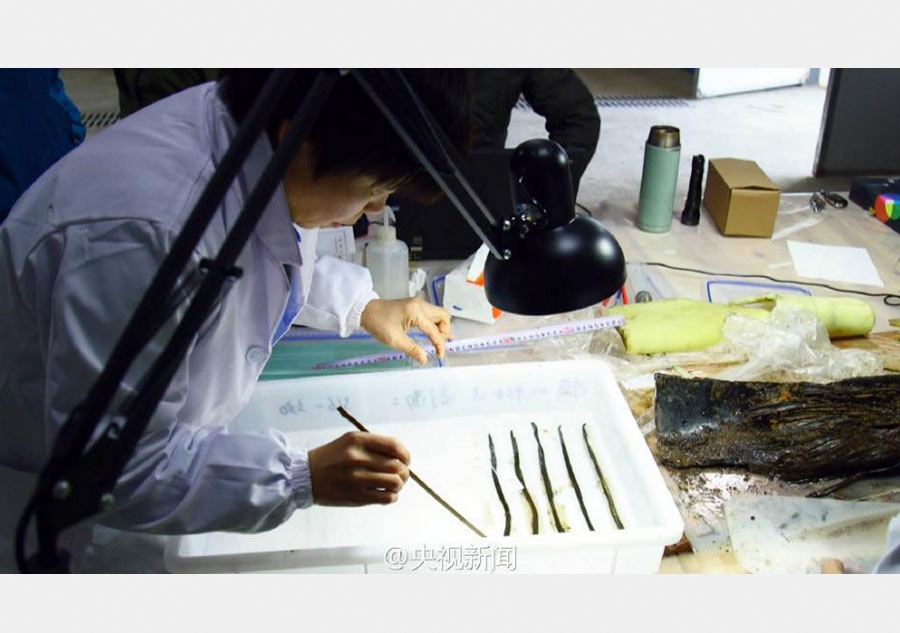 Experts study the bamboo slips unearthed from the Haihunhou tomb in Jiangxi province. [Photo/Official Weibo account of CCTV]
The Qi version of The Analects of Confucius (Qi Lun), which had been lost for about 1,800 years, was suspiciously found in bamboo slips unearthed from the Haihunhou tomb, after the first round of infrared scanning, according to Jiangxi Provincial Institute of Cultural Relics and Archaeology.
During the Western Han Dynasty (206 BC - 24 AD), The Analects of Confucius was divided into three versions, including Qi Lun, Gu Lun and Lu Lun. The Qi Lun was lost during Wei and Jin dynasties (220-420) according to historical records. The archaeologists will continue to confirm the content on the bamboo slips through formal interpretation.
The Haihunhou tomb, the best-preserved cemetery from the Western Han Dynasty, belonged to Emperor Liu He, who was dethroned after 27 days - the shortest reign of any Western Han monarch - because of his debauchery and licentious lifestyle.