Panda poop paper: A new twist on traditional papermaking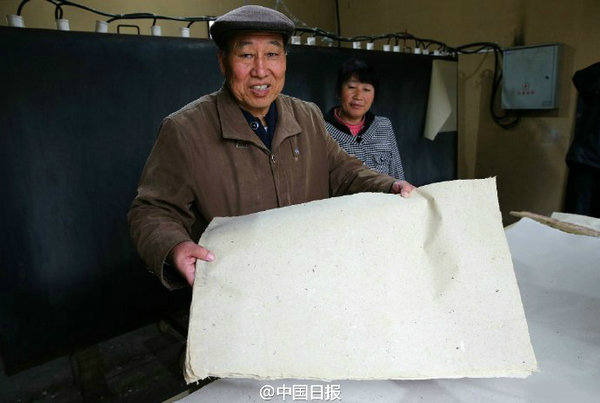 Liu Xiaodong shows panda poop paper. [Photo/Weibo]
Panda poop is the special ingredient in a new kind of paper being made in Qiliang village in Northwest China's Shaanxi province.
The history of papermaking in the village is thousands of years old. The traditional process needed to make the special paper, which is called han ma paper, requires 36 general procedures and 72 steps and takes about one month to go from materials to product.
Liu Xiaodong, an inheritor of traditional papermaking in the village, built a museum in 2015 to promote the skills that have been inscribed as provincial intangible cultural heritage in Shaanxi.
Liu has been trying to find a better way to carry forward papermaking crafts. He found that the bamboo fiber in panda poop had properties similar to fiber that is steamed and boiled, which is akin to material used for traditional papermaking. Liu started to experiment by using panda poop and traditional skills and techniques to make han ma paper.
The process starts with picking bamboo leaves out of the poop. Afterwards workers collect fiber from the leaves and then wash and steam the fiber.
"At first, it was difficult to find a proper ratio of the materials. And we failed many times," Liu said.
After countless failures, the panda poop paper he makes now is soft and reliable. His invention attracted many people and companies' attention and more people became interested in traditional papermaking.
Liu said more products will be made from panda poop and he hopes to revitalize traditional crafts.