Capital gets a slice of the beach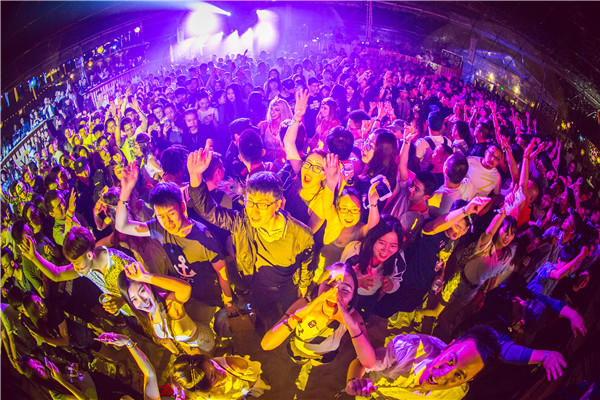 The worldwide music festival Corona SunSets draws a large number of fans at its Beijing event.  [Photo provided to China Daily]
A giant mosaic-like backdrop glitters behind a cast of DJs. Guests sport light summer outfits and body paint as they dance to music. A few short steps away, people enjoy beach volleyball, play on swings and sip beverages.
But this is not a party scene from a palm-fringed tropical-island beach. It is a winter music festival on the outskirts of Beijing on Dec 3 and 4.
With three giant transparent plastic domes, 500 tons of sand and an array of high-caliber DJs, the global music festival, Corona SunSets, which has already been staged in Australia, Mexico, Italy and the United Kingdom, brought a summer seaside vibe to Beijing's cold winter this year.
"Beijing is a long way from the beach. But the idea of Corona, you will find, is to let people enjoy nature and life on a beach at their doorstep," says Huang Wei, BU president North of Anheuser-Busch InBev China.
"Therefore, we shipped sand here to create this feeling of a beach for city dwellers."
Among the festival-goers was 26-year-old Liu Xiaomo, who attended with his friends.
"I felt like I was transported from a freezing winter city to a sunny summer beach. I wa
s revisiting the summer."
Compared with partying at night clubs in Sanlitun, Beijing's trendy urban enclave, the highlight of this festival was the spacious venue as well as the invigorating music, Liu says. "There were some really good DJs out there. They were good at connecting with the crowd and keeping us moving."
The lineup for the festival included Australian DJ and musician Tom Jack, who is known for his laidback dance tracks, the renowned Berlin eclectic collective Jazzanova and Chicago-based DJ Nick Rockwell.
"Jack has really cool music - kind of tropical house music, perfect for the party we are having today," Rockwell said before his debut in China. "Jazzanova has an amazing selection. I did not even realize I have been playing his records for years. It's a really good lineup."
Rockwell also prepared a great variety of sounds for the fest. "There are a couple of tracks from me, tracks from Duke Dumont and Hot Since 82 - Warnings," he says.
But he says that a lot of what he played depended on the specific audience and what he thought they would respond to best. As the sun sets slowly in the west, more revelers meld into the dancing crowd.
For those who missed the Beijing chapter, you can still capture the upcoming Corona SunSets over Jan 7 and 8 in Guangzhou.