Jade works in Beijing mark anniversary of Long March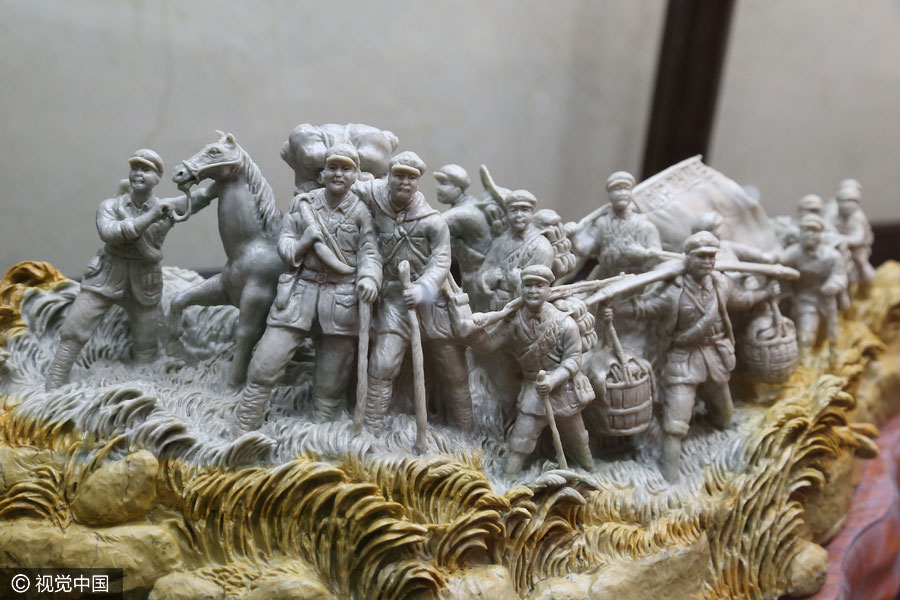 An item on display at a jade sculpture exhibition in Beijing on Dec 6, 2016, to mark the 80th anniversary of the Long March. [Photo/VCG]
To commemorate the 80th anniversary of the epic Long March, a special jade works exhibition is under way in Beijing from Dec 6 to Dec 10.
More than 380 jade items, collected from all around China, are showcased at the exhibition hall of the China Federation of Literary and Art Circles, including a sculpture of late Chairman Mao Zedong, replicas of a cap worn by Mao, as well as scenes of trekking and battles, and straw sandals worn by the soldiers.
Using exquisite carving skills, the artworks bring to life the memories of a revolutionary China in the 1930s.
The 12,500-km military expedition of Long March was led by the Communist Party of China to outmaneuver the Kuomintang regime. From 1934 to 1936, an 80,000-strong Red Army force took part in the long trek, which laid an important foundation for the Communist victory in the war.