Egyptian band rocks Chinese audience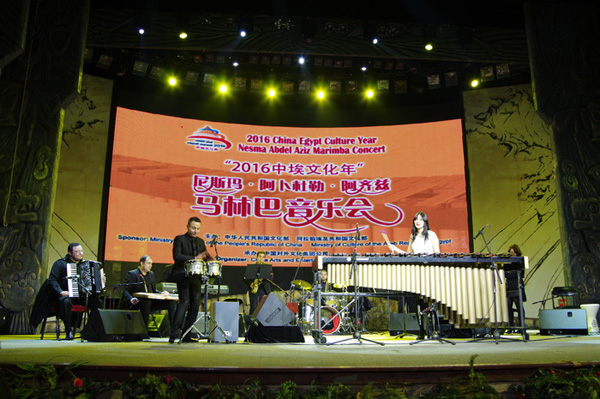 Nesma's band performs at the concert. [Photo/ Chinaculture.org]
As part of the 2016 China-Egypt Culture Year, famous Egyptian musician Nesma Abdel Aziz held a marimba concert at China's National Centre for the Performing Arts in Beijing, on November 20. Three days later, she traveled to Chengdu, capital of Sichuan province, giving two concerts over two consecutive days.
At the concert in Beijing, Nesma, in cooperation with other members of her band, played 19 pieces. Some were international pop songs, while others were traditional Egyptian pieces. The concert was a big success, punctuated by bursts of applause.
In the wake of the concert, Nesma told reporters, "This is my first time in China. I'm very happy to be here, hoping my performance makes you happy."
An audience member named Zhen Ying said, "The concert is lively and joyful. You can also sense the difference between our two nations' culture."
Marimba is a kind of percussion instrument popular around the world. As an outstanding marimba player, Nesma has played in the Cairo Opera House's orchestra for years and won several national awards. In 2000, she started her own band, with marimba at the forefront, which was complimented by other musical instruments, including the accordion, guitar and rabab. Known for its creativity, her band has developed a habit of trying different styles, anything from jazz to classical.