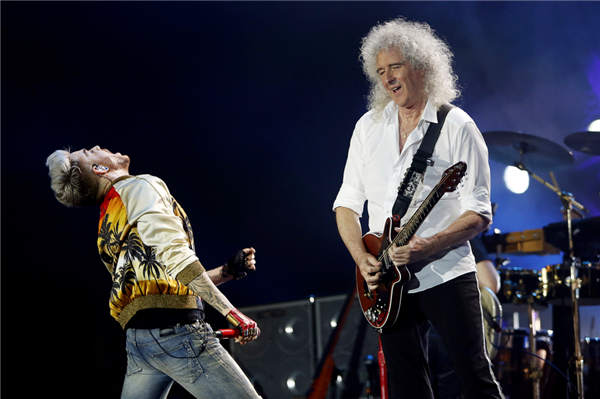 Original Queen member Brian May (right) is joined by singer Adam Lambert at the Queen and Adam Lambert concert in Barcelona earlier this year. Queen will debut on the Chinese mainland in September. Photos provided to China Daily
Fans in Shanghai will soon be treated to legendary rock band Queen's first show on the Chinese mainland. Chen Nan reports.
In 1997, Queen guitarist Brian May traveled to China to see a total eclipse of the sun, which was something that interested him as an astronomer with a PhD. He had a fabulous time traveling around the country that inspired him to write a song called China Belle.
Featured in his second solo album, Another World, in 1998, May sang: "There's a little lady living down in old Beijing/She got everything you need, well you know what I mean".
"It was just before the internet ... I felt that I was in a culture that was so different from my own," he says in an email interview with China Daily.
"Probably not many people know that song. It's a kind of humorous song, but it encapsulates some of the things that I felt when I was in China-that it was so exotic and different, and a part of my life that I'd never experienced before," he adds.
In September, the 69-year-old guitarist will return to China for the band's first show on the Chinese mainland, in Shanghai.
"I'm thrilled that we can go and actually do what we'll do in China. It's an incredible opportunity. We certainly discussed it in the old days, and it's something out of the blue to realize now that we can do this. We'll give it all we've got. We're starting rehearsals as we speak, and we're up for giving you guys the best show you've ever seen in your lives," says May.