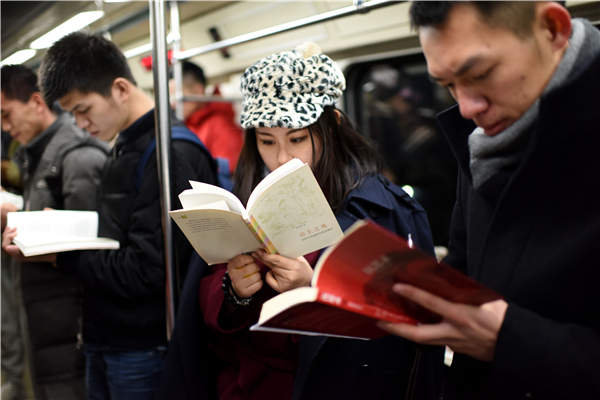 A flash-mob event in Beijing's subway aims to raise awareness of reading. Photos by He Guanxin/Provided to China Daily
Wang Chong and his friends gathered at underground train stations in the cities of Beijing, Shanghai and Wuhan for a few days in January with the aim of getting noticed.
As they got in and out of coaches-and they did quite a bit of that - they made sure fellow commuters saw them glued to the books they were carrying.
Their flash mob was to raise awareness of reading among Chinese, says Wang, who initiated the activity.
"It's time for us to pay more attention to our inner lives," the 27-year-old Beijinger says of what he perceives as the need to read.
He got a master's degree in philosophy three years ago, and reading has become an important part of his life, he says.
In the past year, many Chinese like Wang have spent money buying books - both offline and online.
Since 2014, the goal of building a "nation of readers" has been included in the annual Report on the Work of the Government.
The market value of printed books grew at 10 percent in 2014 and at 12.8 percent in 2015, according to OpenBook, an industry monitor.