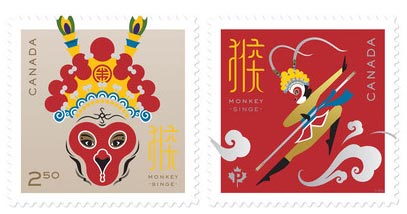 Canada Post is to release a series of stamps to celebrate the Chinese Lunar New Year. [Photo/Canada Post]
Canada Post is set to release a collection of stamps featuring monkey to celebrate the Chinese Lunar New Year, which falls on Feb 8 this year, the national carrier announced Wednesday.
The stamps, the eighth issue in the second 12-year Lunar New Year series which started in 1997, are part of a popular commemorative stamp program Canada Post has been running for the past two decades.
The one for domestic rate will be released on Jan 11 and another for international rate on Feb 1. Canada Post said all stamps and related products can be pre-ordered on its website.
Domestic and international stamps were inspired by the legend of the Monkey King, also known as Sun Wukong in Chinese language, one of the main characters in the classic Chinese novel Journey to the West. Also transformed into a famous Chinese opera, the story tells of how the sovereign accompanied the monk Xuanzang on a journey to India to retrieve sacred Buddhist texts known as sutras.
Designed by Albert Ng and Linna Xu from Toronto, the domestic stamp depicts a golden figure that is vibrant and alive against a rich red background that provides a stark and striking contrast, while the international-rate stamp features a stylized Monkey King mask with red and gold accents. The text of "Monkey" on the stamps is in Chinese, English and French.
Those born in the Year of the Monkey are said to possess brilliance, flexibility and inventiveness, along with an excellent memory and strong will to succeed. They can, however, be easily frustrated by delays, tend to look down on others and have a fast-flaring temper. Canadians born to this lunar year include singer Celine Dion, actress Kim Cattrall and legendary pianist Glenn Gould.
Canada Post's commemorative stamp program is more than 160 years old. It began with Sir Sanford Flemming who designed in 1851 the Three-Penny Beaver stamp.
Over the years, the stamps have become Canada Post's unique way of ringing in the new year and to celebrate the diverse cultures within the community. Every year the launch attracts many long-time stamp collectors.
Related:
Generations of Chinese zodiac stamps