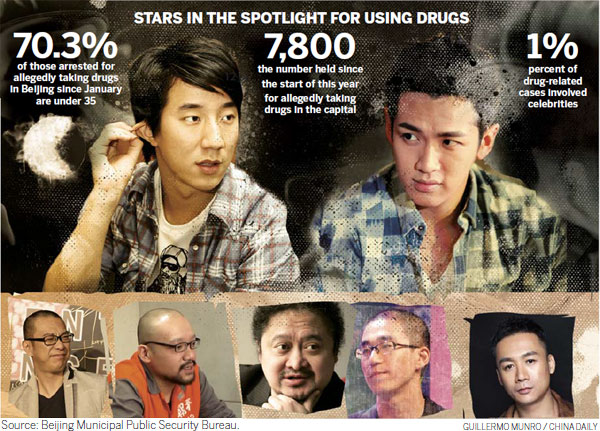 Clockwise from top: Hong Kong actor Jaycee Chan, Taiwan actor Kai Ko, actor Gao Hu, actor Zhang Mo, director Zhang Yuan, singer Li Daimo and scriptwriter Ning Caishen.

THE MEDIA LOVE CELEBRITY SCANDALS.
Drugs plus celebrities make coveted fodder for the gossip-hungry press.
Seven people in the entertainment field, a playwright, actors and singers, have been detained for drug abuse this year in Beijing, worsening the entertainment circles' long-standing image woes, besides provoking worries about the negative effect their actions will have on young fans.
The entertainment circles have adopted their own way of dealing with the evil: Dozens of Beijing-based agencies and performing arts institutions have made a joint pledge to not hire drug-using artists.
It would be nice if the entertainment circles could take care of themselves. But it would be sad if the bigger picture of society's drug conundrum continues to linger under the radar.
The truth is, Beijing police have detained more than 7,800 people this year in a drug crackdown. The seven from the entertainment field are just a small tip of that iceberg.
Drug-related crimes in the city have risen more than 53 percent over the same period last year, the number of suspects detained has increased by almost 72 percent, and the amount of substances confiscated is up by more than 41 percent.
Beijing has 26,000 registered drug users, and the ranks are growing by 10 percent each year. But only a third or so of those detained so far are permanent local residents, a sign that the scope of the problem is greater than the statistics show.
Crystal methamphetamine, or ice, and heroin reportedly account for more than 95 percent of the drugs seized, making addiction and addicts even more difficult to deal with. But it must be made very clear that nothing can justify the proposal to take "less-damaging" substances, such as marihuana, lightly, or even to legalize their consumption. And the rapid increase in the consumption of synthetic drugs police authorities have reported adds another cause for vigilance.
That more than 70 percent of drug abusers in police custody in Beijing are in the 18-35 age group, and that more than 93 per cent of them are jobless point to other aspects worth serious deliberation. The causality between joblessness and drug abuse, for one, calls for careful scrutiny.
But the age structure of drug consumption offers ample reason for more aggressive public awareness campaigns in the fight against drugs.
Sensational media narratives of celebrity drug use convey the misleading notion that drugs are cool, because cool guys do drugs.