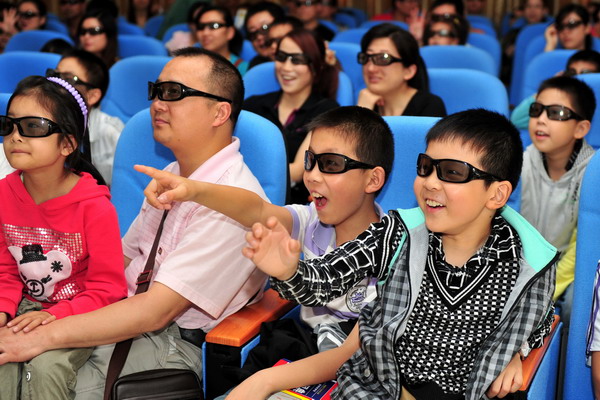 Children watch a popular science film with their parents at a youth center in Yichang, Hubei province. Zhang Guorong / for China Daily
Three-dimensional films are the flavor of the times, but not all is well with domestic productions because Chinese viewers still prefer spending on Hollywood flicks, writes Huang Ying
Zhang Bing's most satisfying and exciting film-viewing experience this year has been the Hollywood blockbuster The Amazing Spider-Man 2, which hit the screens on May 4, right after the three-day Labor Day holiday. More surprising is its ticket price - just 20 yuan ($3.20). "It's that cheap because the theater (where it was released) opened recently," says Zhang who works as a clerk in
Hangzhou
, Zhejiang province. Zhang is among those Chinese
movie
goers who make it a point to go to the cinema whenever a film they consider intriguing is released.
"Generally speaking, I will watch a movie in a theater if I think it will be interesting," Zhang says. "When few quality movies are released, I stay away from cinemas for as long as one to two months," she adds.
Screened in 3-D and Imax 3-D versions, The Amazing Spider-Man 2 had grossed more than 500 million yuan at the box office in China - the world's second-largest movie market - by the end of May 18, according to EntGroup Consulting, a Beijing-based entertainment industry consultancy. This shows the Chinese audience's increasing passion for 3-D movies, especially imported 3-D and Imax productions.
In the first three months of this year, China's box office revenue reached 6.7 billion yuan, exceeding the 2009 total, with more than 50 percent of that amount coming from 3-D movies. "Most of the box office revenue of 3-D movies are generated by imported productions," says Peng Kan, research and development director of Legend media, a Beijing consultancy company.