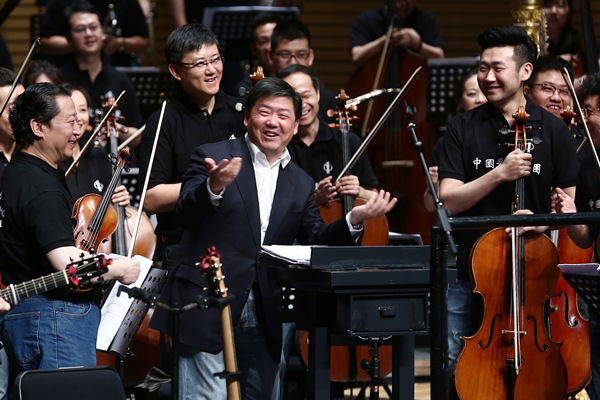 Yu Long conducts the anniversary celebration of the China Philharmonic Orchestra. Photo provided to China Daily 
On Sunday evening I attended a concert at the Poly Theater in a T-shirt and shorts.
I was not the only person dressed so causally. All the musicians were in black T-shirts and jeans. A second violinist was even wearing cowboy boots.
It looked like a birthday party rather than a classical music concert.
Conductor Yu Long and the China Philharmonic Orchestra had fun with their fans and guest artists from the US country music band Buffalo Rome to celebrate the 14th anniversary of the orchestra's founding.
The orchestra played Aaron Copland's Appalachian Spring Suite between Buffalo Rome's songs which included John Denver's Country Road that had the entire hall on their feet, singing along.
When they sang I Swear, I had a flashback of my graduation gala. Three of my classmates sang that song, and my eyes filled with tears. I suddenly realized that I graduated from university and joined China Daily as a music journalist the same summer the CPO was founded.
Memories flooded back.
The first time I interviewed Yu was backstage at the National Library Concert Hall in December 2000. The handsome 36-year-old conductor had just recruited 111 of the best musicians from the country. Most had been poached from the National Symphony Orchestra.
The ambitious conductor was born in a musical family and was trained in Germany. He told me that he had borrowed the hall temporarily, the orchestra would soon have its own residence hall and he planned to build the CPO to be "the best in China, top in Asia and well-known around the world".
I was a green horn both in the newsroom and in the music world. Like most Chinese born in a third-tier city in the late 1970s, I did not grow up with classical music. Familiarizing myself with the music scene was not easy. I would do extensive homework before attending a concert and could not write a story without first checking the music dictionary. I dozed off during an opera gala in my first six months.
On Sept 1, 2001, the CPO started its first season. It was the first time the concept of a "season" was introduced to China.
The same year, the CPO premiered Philip Glass' Cello Concerto. It was the first time a Chinese orchestra commissioned a composer to write music.