NZ film fest tours Chinese cities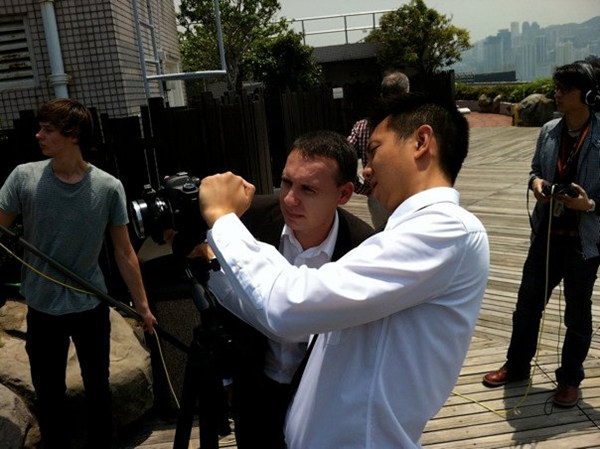 Director and producer Alex Galvin works on the set of Eternity in Hong Kong. Photo provided to China Daily
Organizers and participants in the 2014 New Zealand Film Festival in China, the 7th such, see the event not only as a way to strengthen trade ties and facilitate co-productions between the countries, but also as an important cultural interchange.
The festival, which opened with a reception and premiere in Beijing on April 22, will visit Shanghai and Guilin before ending on May 2. It will bring six feature films and six short films to Chinese audiences.
The program is being hosted by the film bureau of the State Administration of Press, Publication, Radio, Film and Television and the New Zealand Film Commission, and is coordinated by the Pacific Culture and Arts Exchange Center (NZ).
Jim He, chairman of the center, is a Beijing native who moved to New Zealand in 1989 and has facilitated cultural exchanges between the two countries for almost that long.
He says the film festival gives Chinese people a window to understand and appreciate not only excellent New Zealand films, but also the country's lifestyle and culture.
"It is a communication channel between filmmakers of the two countries and a pathway for film co-productions between China and New Zealand."
Audience numbers for last year's festival in China reached 20,000 and He is also excited that two New Zealand films, Weight of Elephants and Shopping, were selected for the "panorama session" of the ongoing Beijing International Festival. Weight of Elephants is also part of the NZFF lineup.
The film chosen to open the festival and appear at each premiere is the sci-fi mystery Eternity, the second feature film from writer, director and producer Alex Galvin.
Speaking from New Zealand, Galvin says he has been eager to return to China since his first visit last year, when Eternity was selected for the Shanghai International Film Festival.
The movie was conceived as a New Zealand/Asia co-production, he says, with filming taking place in Hong Kong - representing a city of the future - and New Zealand - the "clean, green" backdrop of the film's virtual world.