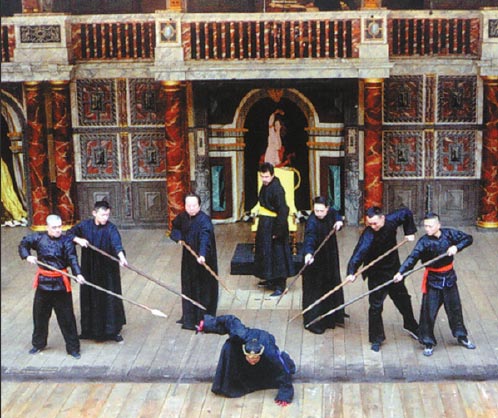 A production of Richard III by the National Theater Company of China at the Globe Theater in London, a replica of Shakespeare's original venue. Provided to China Daily
Chinese people with no knowledge of the English language found initial access to the Bard through Charles and Mary Lamb's Tales from Shakespeare.
In 1903, 10 of the stories appeared in a Chinese version re-titled Strange Tales from Overseas. The translator was Lin Shu (1852-1924), who knew no foreign languages but, with the cooperation of bilingual talents, was able to wield wide influence by producing top-rated Chinese translations of many Western literary classics. The following year, Lin completed the entire collection and republished it under the title The Mysterious Stories of the English Poet. Two years on, in 1906, Lin tackled five of the history plays from the root source, but again as freeform fiction rather than plays for staging.
Lin used a style of written Chinese that had been accepted by men of letters down the centuries, but sounded archaic to people on the street. It took a playwright to take up the gauntlet of translating Shakespeare as it is intended - that is, as a language spoken by actors in a theater. In 1921, Tian Han (1898-1968), who later emerged as a major figure in Chinese theater and film, launched an ambitious project to translate 10 of the Bard's works, but only managed to finish Hamlet and Romeo and Juliet. These were the first complete Chinese translations and employed a dramatic form similar to the original.
Since then, Shakespeare has been translated and retranslated - each version with its own merits and foibles. According to Lu Gusun, a professor of English literature in Shanghai, as many as three Chinese versions of Hamlet appeared before 1949, and at least five more were published afterward, two of them in verse form.
English and Chinese are very different languages, so many of the problems that arise are common to all literary translations. However, there are issues unique to Shakespeare, the most prominent being poetry versus prose. Many Chinese translators chose prose mainly because they wanted to better preserve the flow of the sentences, which tend to go across lines in English. For rhyming couplets, they usually stuck to the verse form. Maintaining the original structure of the verse, on the other hand, dramatically increases the level of difficulty of simultaneously retaining lucidity and loyalty to the original meaning.