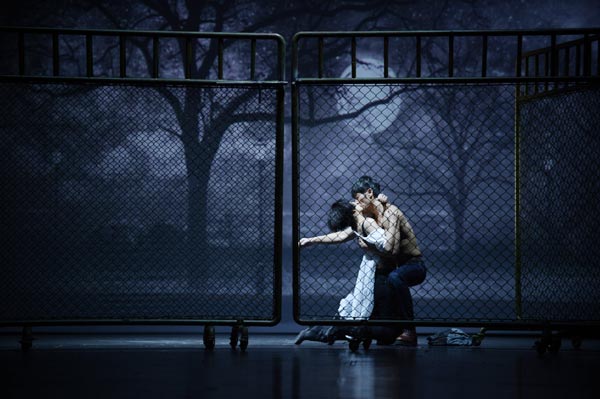 Tian Qinxin's staging of Romeo and Juliet keeps the fire burning between the star-crossed lovers, but preserves only the most important lines from the original text. CHAI MEILIN/CHINA DAILY
The first production of Shakespeare in China was staged in 1902, when, in an effort to better understand English history and language, students at Shanghai St. John College put on The Merchant of Venice - in the original language.
The story of Antonio, Portia and Shylock also produced the most popular Chinese-language dramatizations in the early years of the 20th century, when some 20 plays saw the light of day in the Middle Kingdom. But they were Shakespearean stories, based on the Lamb's version, rather than Shakespeare's own plays. Very often, actors were only given the plot, but no dialogue. They were supposed to improvise. So, "Hath not a Jew eyes?" or "The quality of mercy" might well have never been heard on a Chinese stage at the time.
The emphasis on narrative had an unintended benefit: It often brought out the contemporary relevance of the stories and helped strike a chord with the audiences of the day. A 1916 production of Macbeth, re-titled The Usurper, was a not-so-subtle swipe at the President-turned-Emperor Yuan Shikai. The actor Gu Wuwei was arrested on the grounds of inciting unrest and rebellion and was sentenced to death. But a happy ending came for the actor in a perfect deus ex machina when Yuan died suddenly and his regime fell.
The first professional Chinese production based on Shakespeare's own text, albeit in translation, took place in 1930. Again, it was The Merchant of Venice. Painted backdrops depicted Italian scenes and the actors wore Western costume. According to the scholars Ruru Li and David Jiang, as of 1994, about 95 percent of Shakespearean productions in China adhere to this style, which was considered authentic.