Parked outside China Daily about two weeks ago, a Mini Cooper with both mirror caps painted in the Union Jack caught my attention.
It would be quite an ordinary car in London, but this is Beijing. How many Chinese car owners here paint their cars that way? Quite few, it seems.
I was amazed only a week ago at seeing another two, both Mini Coopers, also emblazoned with the nation's flag, one on the entire rooftop and the other across both front seats. How many hardcore UK fans are there in the Chinese capital, I asked myself.
Obviously it would be hard to get an accurate answer, but I for one spent eight years in Britain.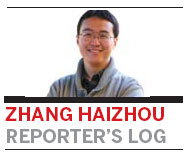 Even without statistics, it is clear that the British lifestyle and culture are on the rise among ordinary Chinese, particularly the younger generation. Many have returned home after spending years studying or living in the UK in recent years.
British dramas Downton Abbey and Sherlock have taken China by storm.
The Red Scarf, a London-based micro blog, which began in 2010 on the Web portal Sina to offer useful information to Chinese students, has developed into a widely known account that has the most up-to-date UK reports and nearly 300,000 followers.
Amid the rising popularity of the British lifestyle and culture, British Prime Minister David Cameron arrives on Monday, after a rocky 19 months for China and Britain on the diplomatic front.
The two countries have decided to treat each other in a pragmatic manner.
China is the UK's second-largest trading partner outside the EU. Chinese companies have invested or are planning to invest nearly $5 billion in more than 10 big projects in Britain.
But Sino-UK ties now reach far beyond trade and investment.
The following pages will bring you articles on cultural, educational and lifestyle bonds between the two countries, written mostly by our staff writers who have stayed or are now still in the UK.
Liu Wei brings you the reason behind the popularity of Downton Abbey and Sherlock, while Wang Ru analyzes how China's urbanization means opportunities for UK and European urban planners and consultancies.
Zhang Chunyan and Cecily Liu, based in London, share with readers rising Chinese fashion in British highstreets.
And Su Zhou, who writes about the increasing UK A-level education on the Chinese mainland, is herself a hardcore fan of Benedict Cumberbach, star of Sherlock.
Related:
Brit dramas a hit with online sophisticates
Mandarin gaining in popularity