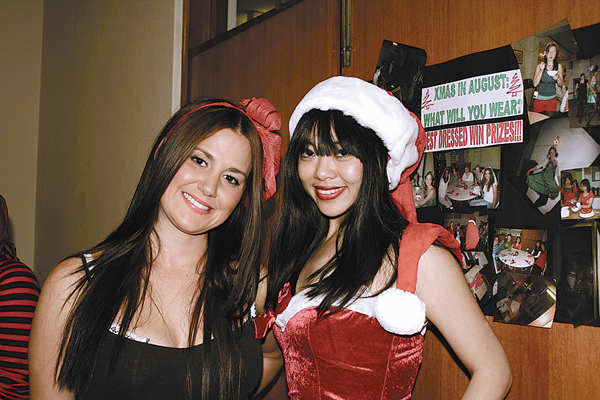 Wang Wenbo (right) poses with a friend in Sydney, Australia, during a party. Wang got into the habit of saying thanks to family and close friends while living overseas. Photo provided to China Daily
Not every good deed merits a "thank you" - not among close friends and relatives in China, anyway. After seven years abroad, this basic Chinese rule of social interaction had slipped Wang Wenbo's mind.
The 27-year-old got a nudge last year, when a cousin and her husband from Shanghai visited Wang's hometown in Northeast China. They brought her miniature sculptures as a present, and Wang generously expressed her appreciation. After Wang's third "thank you", her cousin spoke up.
"Why do you keep saying that? I gave you a gift because you're my family. You don't need to say thank you," Wang, who now works at a foreign multinational in Beijing, quotes her cousin as saying.
Making a habit of saying thanks is actually something that the native of Changchun, Jilin province, had to learn after moving to Australia at 17. As a child, Wang says she mimicked her parents' practice of rarely offering thanks to people close to them; words of gratitude were reserved for casual acquaintances and strangers.
Catherine Caldwell-Harris, an associate professor of psychology at Boston University who has studied Chinese people's reticence in saying "I love you", explains that the Chinese default social mode is connectedness, so people "don't need to use language or nonverbal expressions to be connected".
In China, the stock response to a "thank you" is not "you're welcome" or "my pleasure"; it is "no need to be polite". And the Chinese really mean it.
The Chinese think that frequently saying "thanks" and "sorry" is being overly polite, and purposely creates distance between friends, which hinders deeper communication, writes Shi Tonglan, a professor at Japan's Ryukoku University, in her paper Exploring the Cultural Differences in Chinese and Japanese Language Behaviors.