London Luxury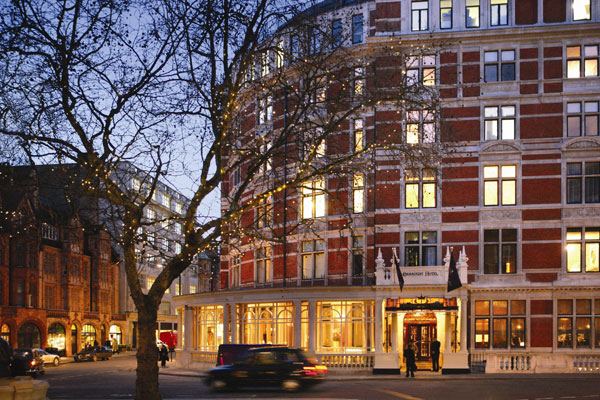 The Connaught Hotel, a London landmark, recently opened an Asian-style spa, featuring traditional wellness treatments. Photos Provided to China Daily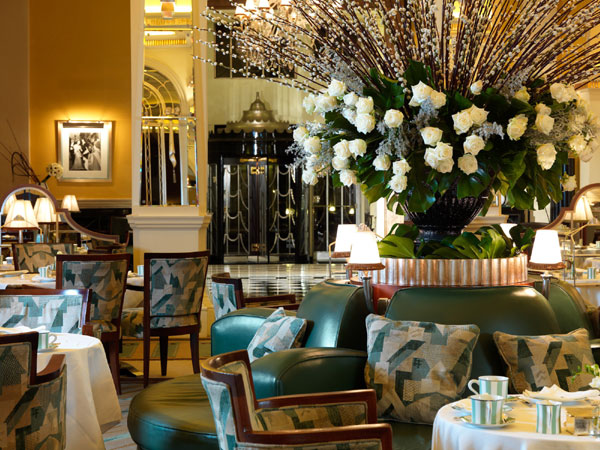 The British capital's most iconic hotels are eager to welcome the growing wave of Chinese tourists, Mike Peters reports, with the city's best shopping and dining in easy reach.
Claridge's. The Berkeley. The Connaught. These iconic London hotels boast such colorful history and character that millions who never slept there feel they know them well, thanks to movies, literature and celebrity sightings.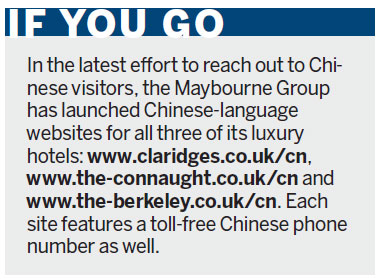 Claridge's, in fact, is the subject of an immensely successful BBC documentary. The Guardian newspaper, noting the hotel's history in the context of the current buzz over the new Great Gatsby film, hints that novelist F. Scott Fitzgerald's 1921 stay at the hotel was a harbinger of the glamor to come, and notes that "interior architect Basil Ionides' 1929 overhaul transformed Claridge's into the self-appointed 'art deco jewel of Mayfair'."
Sherlock Holmes once stayed at Claridge's in fiction, and real-life famous folk have sought the exclusive luxury of all three hotels for more than a century.
Today, the hotels are operated by the Maybourne Hotel Group, which recently brought a team to China to put the properties high on the radar of newly prosperous Chinese tourists.
They are not alone. Last week, London Mayor Boris Johnson and the London Luxury Quarter made a similar swing through Beijing, showcasing the Langham hotel and an opulent array of top-flight restaurants, shops and galleries along 42 streets just north of Buckingham Palace. Fortnum & Mason is London's most fashionable grocer, Gieves & Hawkes has tailored royals for more than a century, and Boodles, Tiffany, Floris and Faberge are just a few of the glittering names that invite discerning shoppers to the area.
Maybourne Group CEO Stephen Alden says his team is still learning how to serve the Chinese market, but the hotels have already made several concrete moves to attract China's fast-growing luxury-travel sector. They are the latest hotels to sign an agreement with Union Pay, making credit-card payment easy for the visitors from the Chinese mainland.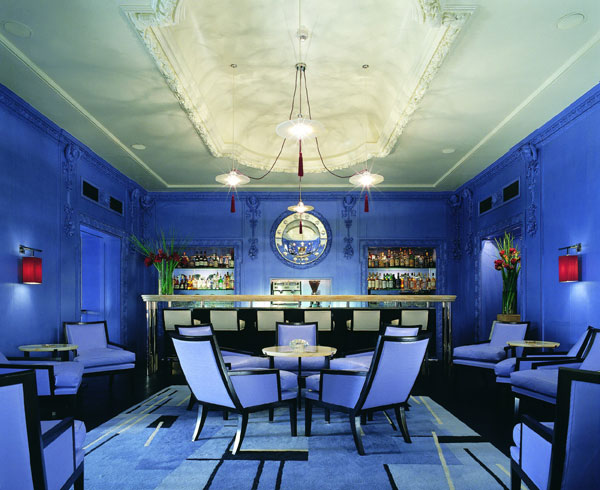 The Berkeley has collaborated with two top Asian designers to lend their sensibilities to new hotel features. Hong Kong-based interior architect Andre Fu has created a "super suite" on the fourth floor that opened this summer, while Hong Kong-born Spencer Fung, now based in London, is redesigning the rooftop health club and spa.
The legendary hotels' location in the heart of London guarantees an unparalleled shopping experience, Alden says, and most of the city's sightseeing attractions are in easy reach. And because the area is rich in restaurants of all kinds, the hotel staff can direct guests to quality Chinese food as well as the best of British fare.