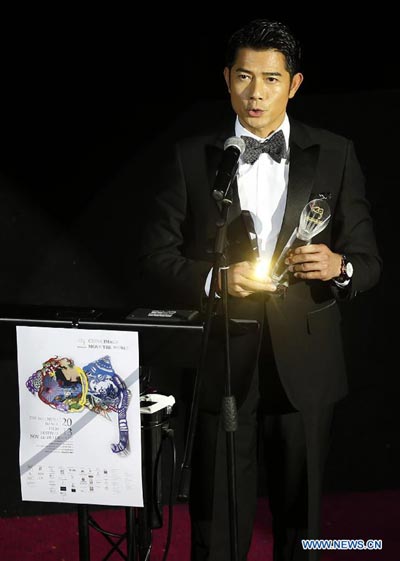 Best Actor Award winner Aaron Kwok addresses the closing ceremony of the 5th China Image Film Festival at Cineworld Haymarket in London, Britain, on Nov 18, 2013. [Photo/Xinhua]
LONDON -- The 5th China Image Film Festival came to a close at the Cineworld Haymarket in London, Britain on November 18, 2013.
Chinese actor Aaron Kwok walked away with the Best Actor award and his movie "Silent Witness," which won Best Picture, was screened as part of the closing ceremony.
Actress Yang Zishan, who shot to stardom after appearing in actress Zhao Wei's megahit directorial debut "So Young," won the festival's Best Actress award.
Other notable festival winners included actor Li Mincheng, who won the Rising Star award, and reporters Dong Xiang and Feng Qian, received the Best Documentary award for CNC.
China Image Film Festivals, initiated in 2009 and held annually in London during the autumn season, has been providing Britain's moviegoers with access to the latest in Chinese film. This year, the crime film "Silent Witness," the romantic comedy "Finding Mr. Right"and the animation film "Kuiba II" were all hits among British audiences.
Chinese and British filmmakers also met during the festival in search of future cooperation opportunities. A film market aimed at promoting Chinese films was also held during the festival.
Related:
China Image Film Festival kicks off
Cui Jian's 'Blue Sky Bones' screens in Rome
Documentary 'Tir' wins Rome film festival's top prize