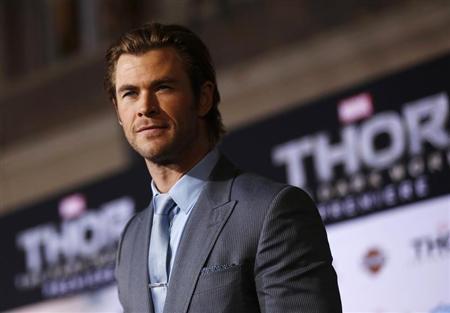 Cast member Chris Hemsworth poses at the premiere of "Thor: The Dark World" at El Capitan theatre in Hollywood, California November 4, 2013. The movie opens in the US on November 8. [Photo/Agencies]
Superhero sequel "Thor: The Dark World" hammered out another victory in its second weekend at US and Canadian box offices, overcoming a strong performance from Christmas-themed romantic comedy "The Best Man Holiday."
"Thor," from Walt Disney Co's Marvel Studios, hauled in $38.4 million in ticket sales from Friday through Sunday, according to studio estimates. "Best Man Holiday" earned $30.6 million to take the No. 2 spot. Senior-citizen, buddy comedy "Last Vegas" finished third with $8.9 million.
Elsewhere, "Catching Fire," the highly anticipated "Hunger Games" sequel starring Jennifer Lawrence, opened big in Brazil with $6.3 million. The movie is to open in the United States, Canada and dozens of other countries on Friday.
"Best Man Holiday," a sequel to 1999 film "The Best Man," exceeded the forecasts of box office analysts, who had predicted a debut at around $24 million at US and Canadian theaters.
The installment brings back nine stars from the original film, including Taye Diggs, Terrence Howard and Morris Chestnut, for a reunion that tests marriages and friendships. The movie cost $17 million to make, according to the Box Office Mojo website.
"No one ever would have expected this kind of number," said Nikki Rocco, president for domestic distribution at Universal Pictures, noting that the studio was expecting an opening weekend total "somewhere in the high teens."
"The stars really aligned on this one," Rocco said, adding that its A+ rating from CinemaScore, which polls moviegoers, bodes well for continued strong performance leading up to the Thanksgiving holiday later in November.
"Thor" stars Chris Hemsworth as the god of thunder who battles to save his homeland from an enemy force. Tom Hiddleston co-stars as his conniving brother, Loki. Through Sunday, the movie had grossed $480 million around the world, Disney said.
"Last Vegas" features Robert De Niro, Morgan Freeman, Michael Douglas and Kevin Kline as four friends who gather for a bachelor party. Total sales since its November 1 release reached $47 million through Sunday.
Rounding out the charts, animated movie "Free Birds" took the No. 4 spot with $8.3 million while comedy "Jackass Presents: Bad Grandpa" was fifth pulling in $7.7 million.
Universal Pictures, a unit of Comcast Corp, released "Best Man Holiday." "Last Vegas" was distributed by CBS Films, a unit of CBS Corp. "Bad Grandpa" was released by Paramount Pictures, a unit of Viacom Inc. "Free Birds" was distributed by privately held Relativity Media. Lions Gate Entertainment Corp released "Catching Fire."
Related:
Lawrence sows seeds of revolution in return to 'Hunger Games'
'The White Storm' debuts at Rome Film Festival