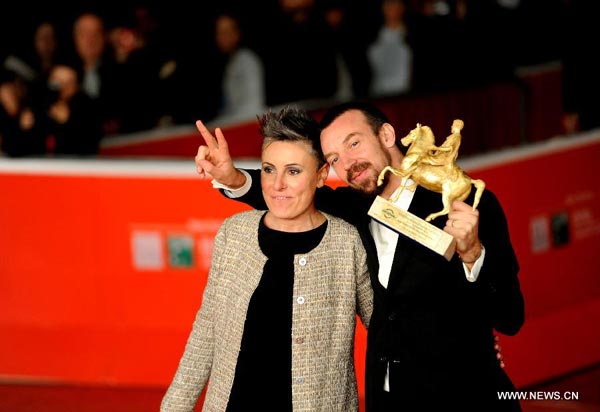 Winner of Golden Marc Aurelio Award for Best Film, Italian director Alberto Fasulo (R) of the film "Tir" poses on the red carpet after the awarding ceremony at the Rome International Film Festival in Rome, Italy, on Nov. 16, 2013. [Photo/Xinhua]
ROME -- "Tir," a documentary about the unlikely career path of a Bosnian truck driver directed by Albert Fasulo, became the first Italian film to win the Golden Marcus Aurelius award at the eight-year-old Rome Film Festival Saturday.
Meanwhile, two big-name Hollywood actors -- Scarlett Johansson and Matthew McConaughey -- won the main acting prizes and a total of three of the ten prizes from the in-competition selection went to Asian films, including "Blue Sky Bones" (Lanse gutou) from Cui Jian, which won a special mention from the jury.
Separately, Tsui Hark was given the festival's second Maverick Director Award, while his latest film, "Young Detective Dee: Rise of the Sea Dragon 3D" had its international premiere immediately following the award ceremony.
The awards -- which also included a pair of honors for the Japanese thriller "Seventh Code" (best director to Kiyoshi Kurosawa and Koichi Takahashi for best technical contribution) and the best emerging actor or actress honor to the entire cast of "Acrid" (Gass) from Iranian director Kiarash Asadizadeh -- were well received by the crowd in attendance and will surely shine a favorable light on the festival, under the artistic direction of Marco Muller for the second year.
Johansson's award was unusual, because it represented a rare acting honor in a non-animated film for someone who did not appear on screen in the film that earned her the nomination.