C-Salon: Conservation through conversation
The high speed of modernization, along with demolitions and environmental damage has resulted in a loss of heritage for China. Outside of official efforts, ordinary citizens are now coming up with new ideas to contribute to heritage conservation.
The C-Salon, which started last November, is a civic group that aspires to create a resource-sharing platform for both experts in the heritage preservation circle as well as ordinary individuals who are interested in the cause and want to do something about it.
Although the name C-Salon may sound simple, its meaning goes deeper than one might assume. "C" in not only the first initial of Cui Limin, the organizer of the salon, but it's also a letter which stands for city, culture, conservation, conversation, citizen, civilization, and so on. Each word has a certain connection with the subject of heritage preservation.
Though the salon is no more than an interest group, its activities take the serious form of academic seminars. Thus far, four seminars have been organized under various topics such as "The emergence of social networks and reform in the mode of heritage sharing," "Traditional color paintings in Chinese architecture" and "Digitalization in cultural heritage protection."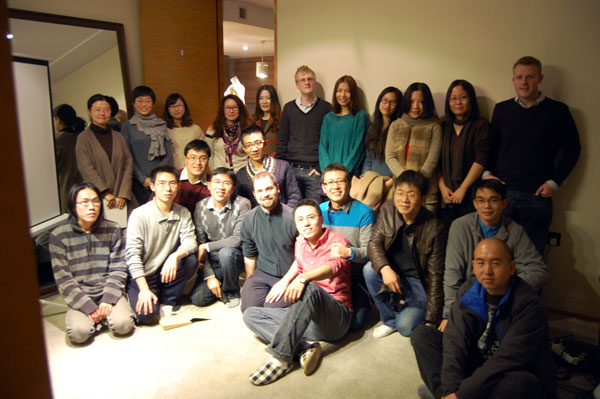 Photo taken after a salon discussion. [Photo provided to chinadaily.com.cn]
The participants, most of whom are professionals, are invited to Cui's place (which happens to be the wedding gown studio of Cui's wife) to give speeches and take part in various discussions. The videos and transcripts from each seminar are uploaded online so many of the salon's fans can keep track of the group's activities.
When asked about the original intention of starting this salon, Cui Limin, a Beijing native who works with Tsinghua Urban Planning & Design Institute, enthusiastically explained that heritage preservation is where his passion lies. He said, "I love travelling to ancient cities or towns, you can feel the history there and it is hard to describe in words."
For Cui, heritage sites have more value than just serving as travel destinations. "Heritage, especially cultural heritage, is non-renewable, and thus irreplaceable. It is a physical carrier of history, culture and civilization," said Cui.