China welcomes Mongolia to actively participate in Belt and Road construction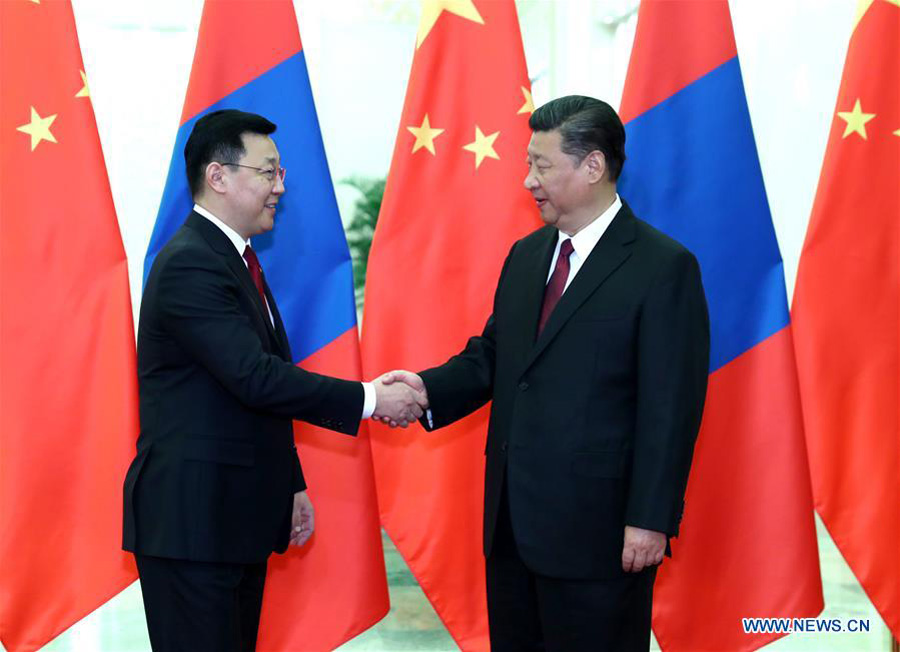 Chinese President Xi Jinping (R) meets with Mongolian Prime Minister Jargaltulga Erdenebat at the Great Hall of the People in Beijing, capital of China, May 12, 2017. Jargaltulga Erdenebat is in Beijing to attend the Belt and Road Forum for International Cooperation. [Photo/Xinhua]
BEIJING -- Chinese President Xi Jinping said Friday that Mongolia is welcome to actively participate in construction of the Belt and Road.
China supports Mongolia's efforts to be a bridge linking Europen and Asian continents, Xi told Mongolian Prime Minister Jargaltulga Erdenebat, who is in Beijing to attend the Belt and Road Forum for International Cooperation scheduled for May 14 to 15.
The two countries should cooperate on areas including trade and investment, connectivity, agriculture and animal breeding, industrial capacity, and energy, so that the Belt and Road Initiative and Mongolia's Prairie Road development initiative can be effectively dovetailed, Xi said.
He called for efforts to promote the construction of the China-Mongolia-Russia Economic Corridor to boost the common development of the three nations.
Xi said the Chinese side attaches great importance to the development of China-Mongolia ties. Both sides should uphold the principles of mutual trust, cooperation and win-win outcome, and take opportunities to broaden exchanges and cooperation in various fields and push forward their comprehensive strategic partnership.
He stressed that the developmental prospects for China-Mongolia ties are broad, adding that the two sides should care for each other's core interests and major concerns and deepen mutual trust to ensure that the development of bilateral ties will not deviate from the right track.
The president called for facilitating the study of a free trade zone and cross-border economic cooperation, and promoting cooperation on major mineral industry programs and infrastructure connectivity.
Efforts should also be made to increase exchanges between youth, media and local authorities, Xi said.
Erdenebat said carrying out friendly cooperation with China is a priority for Mongolia. The country adheres to the one-China policy, and is willing to strengthen bilateral high-level exchanges, economic and trade cooperation and people-to-people exchanges.
The prime minister said Mongolia understands the significance of the Belt and Road Initiative, which is open and inclusive, in solving the unbalanced and unstable development of mankind and boosting world peace and development.
Mongolia is willing to be a bridge linking Europen and Asian continents and will actively participate in mutually beneficial cooperation under the Belt and Road Initiative, Erdenebat said.