Cambodia launches Cambodian edition of Xi Jinping: Governance of China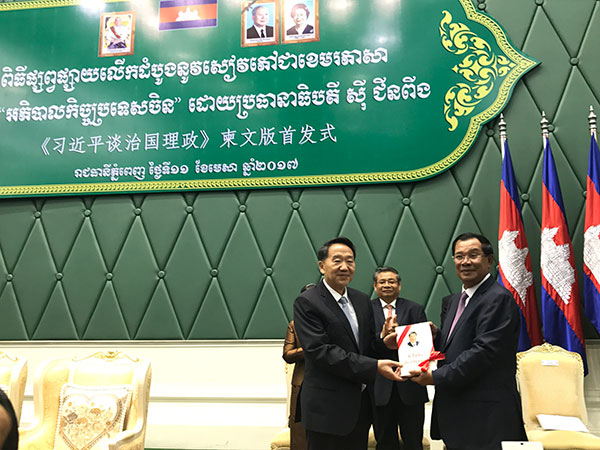 Jiang Jianguo, minister of the State Council Information Office of China, presents the Cambodian edition of Xi Jinping: The Governance of China to Cambodian Prime Minister Hun Sen during the launch of the book in Phnom Penh on Tuesday. [Photo by Xu Wei/chinadaily.com.cn]
The Cambodian edition of Xi Jinping: The Governance of China made its debut in Phnom Penh on Tuesday as Cambodian Prime Minister Samdech Techo Hun Sen called on the country's young people to read the book to learn about governing a country.
The book in Khmer, the Cambodian language, joins editions published in 16 other languages, with 6.2 million copies distributed worldwide.
Hun Sen, at a ceremony marking the local debut of the book, said it captures the essence of China's socialist development.
"The Chinese government has spared no efforts in improving its capacities in governance and the rule of law," he said. It also explains China's efforts in fighting corruption and deepening reform, he said.
The Khmer edition followed the unveiling of the book's Thai language version in Bangkok on Friday.
Jiang Jianguo, minister of the State Council Information Office, said at the Phnom Penh ceremony that Xi has always favored the people, and his train of thought and measures of reform and development reflect the interests of the people and progress toward social equality.
Jiang noted the country's public welfare improvements in the past five years, such as having lifted more than 60 million people out of poverty, with the total number of college students reaching 37 million.
Lok Chumteav Clot Thida, president of the Royal Academy of Cambodia, which translated the book into Khmer, said the academy will look to translate more works by Chinese and Cambodian leaders to aid scholarly research.
Meas Chhor Poam, principal of Preah Norodom Primary School in Phnom Penh, said he plans to use Xi's book as a teaching material in his school.
"The book is the guidebook on the development of China. China is already the world's second-largest economy, and could be the largest in the future.
"I think China can share its development experience with Cambodia, especially given the historical friendship between the two countries," he said.
Meas Sokunth, a government adviser, said he believes China's development is a good model for Cambodia. "The two countries have a strong diplomatic relationship and a similar culture and political environment. That is why the Chinese experience can be applied here," he said.
"China is big country that can unite all nationalities in it. The country's phenomenal development shows the importance of the unity of a country," he said.
He said China's strong anti-corruption drive and its diplomatic policies to reach out to all countries in the region also make Xi's book a must-read.