Rampaging driver strikes Times Square pedestrians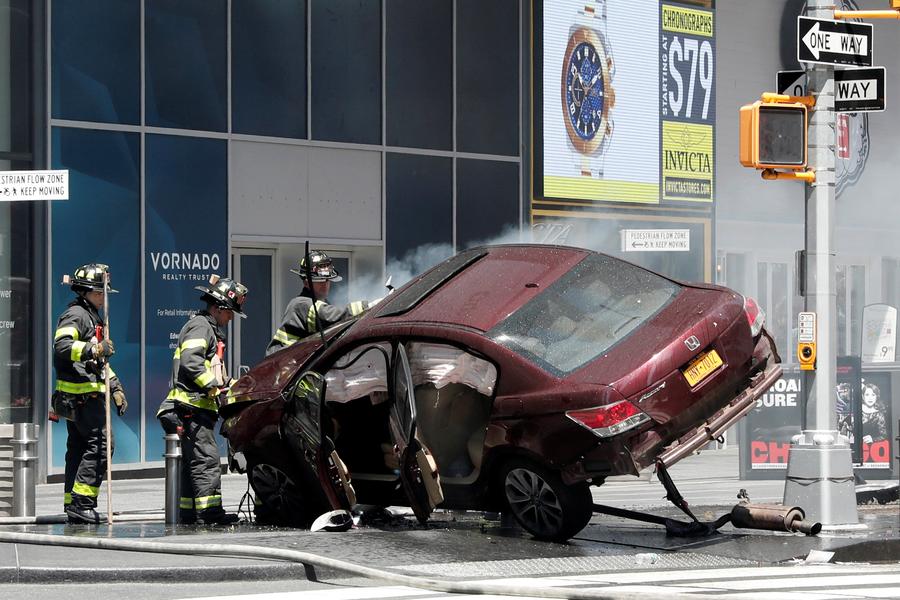 A vehicle that struck pedestrians and later crashed is seen on the sidewalk in Times Square, New York City, US, May 18, 2017. [Photo/Agencies]
A driver careening against traffic in New York's Times Square on Thursday struck more than 20 pedestrians, fatally injuring a young woman before his car came to a stop on two wheels.
The chaotic scene disrupted the heart of midtown Manhattan on a sweltering afternoon for more than four hours, stranding workers in their offices and tourists wheeling suitcases.
The driver was identified as Richard Rojas, 26, of the Bronx, New York, a former US Navy sailor.
Police said Rojas made a sudden U-turn onto West 42nd Street and drove north up the sidewalk for three blocks, passing tourist attractions such as the Hard Rock Cafe and the Bubba Gump Shrimp Co restaurant and plowing through people.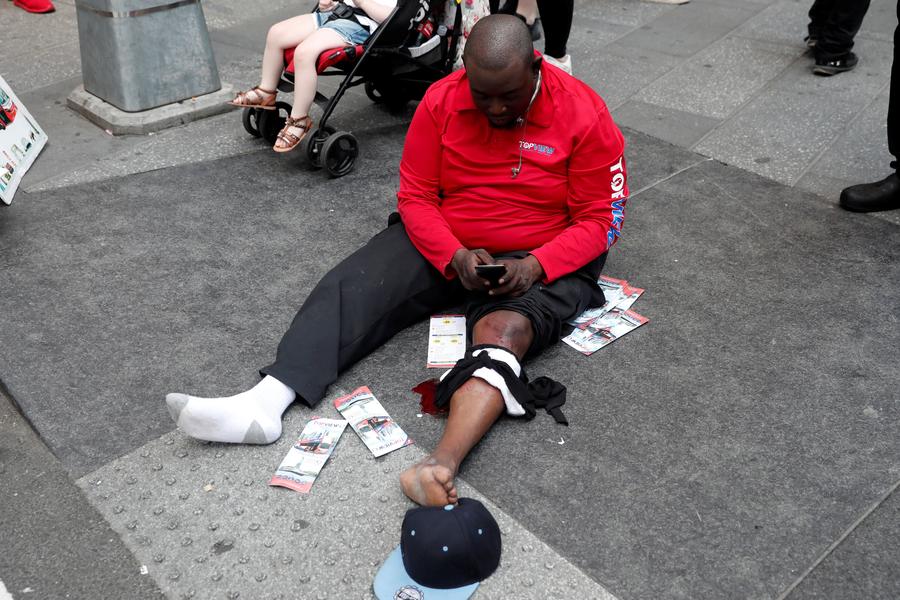 An injured man sits on the sidewalk in Times Square after a speeding vehicle struck pedestrians on the sidewalk in New York City, US, May 18, 2017. [Photo/Agencies]
Rojas' burgundy Honda Accord sedan was smoking when it came to a stop on top of a metal stanchion at West 45th Street and Broadway, where it remained at least until 6 pm.
Rojas had been arrested twice for drunken driving in 2008 and 2015, and once earlier this month for menacing. Court records showed Rojas also was arrested at a naval base in Jacksonville, Florida, in September 2012, after he yelled, "My life is over," and threatened to kill police.
Daily Mail.com, citing law enforcement sources, said Rojas had smoked K-2, a synthetic form of marijuana, before the rampage. He also was arrested last week after pulling a knife on a man in the Bronx and asking him "Do you feel safe?" Rojas let off after reaching a deal with the Bronx District Attorney's Office, the newspaper reported.
"People were being hit and rolling off the car," said Josh Duboff, who works at the nearby Thomson Reuters headquarters. He said he leapt out of the way to avoid being struck.