Rail design keeps wildlife safe
A new railway design is allowing the latest high-speed rail line to pass through national natural reserves while causing only minor disturbance to local wildlife.
The Xi'an-Chengdu high-speed rail, which opened on Wednesday, is the first bullet train to cut though the Qinling Mountains, in Shaanxi province, which are home to many rare wild animals including the giant panda, golden monkey, crested ibis and golden takin.
It is one of three major habitats for the wild giant panda, with about 345 of China's 1,864 wild giant pandas living there, according to the fourth National Survey on Giant Pandas released in 2015.
The railway will also pass through a major Tianhuashan Mountain reserve, a giant panda habitat.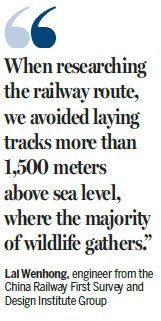 "When researching the railway route, we avoided laying tracks more than 1,500 meters above sea level, where the majority of wildlife gathers," said Lai Wenhong, an engineer from the China Railway First Survey and Design Institute Group, who is in charge of the railway's environmental design.
At less than 1,500 meters above sea level, tunnels and bridges pass through the mountain range, according to the group.
More than 90 percent of the railway through the Qinling Mountains is tunnels and bridges, said Liu Shuangjin, general chief designer of the line's Shaanxi section from the China Railway First Survey and Design Institute Group.
"The merit of tunnels is to reduce vibration when a train passes by," Lai said.
The average depth of the tunnels is 400 meters, and the deepest is 1,000 meters.
"Urban subways cause vibration in a radius of 20 to 30 meters. At 400 meters deep, it would be rare to sense vibration," Lai said.
Bridges are constructed to link tunnels. Protective shields have been placed at the mouths of tunnels in the Qinling Mountains to keep wild animals from falling. During construction, the company avoided setting up temporary facilities in wildlife habitats.
Dirt excavated from building tunnels and bridges was removed regularly and construction crews used low-noise equipment to avoid disturbing wildlife.
During operation, trains are forbidden from using horns in wildlife habitats.
The line also passes through the Yangxian county reserve, home to crested ibis, a rare bird.
"Only one kilometer of the high-speed rail traverses the reserve for the crested ibis. But 33 kilometers of protective nets have been built to minimize its influence on the vicinity," Lai said.
The 4-meter-high mesh on the sides of bridges higher than 10 meters will prevent the birds from flying into the path of trains, which is safer for the birds and the trains.
luowangshu@chinadaily.com.cn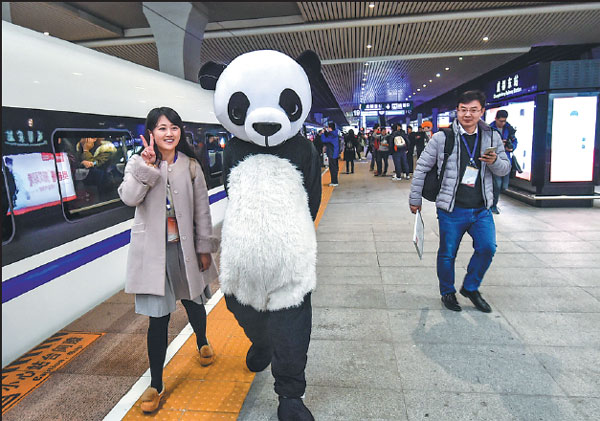 A passenger poses for a photo with a performer in a panda costume at Chengdu East Railway Station in Sichuan province on Wednesday. The Xi'an-Chengdu high-speed railway opened on Wednesday.Lyu Jia / For China Daily
(China Daily 12/07/2017 page4)

Editor's picks