FTZ simplifies process to launch businesses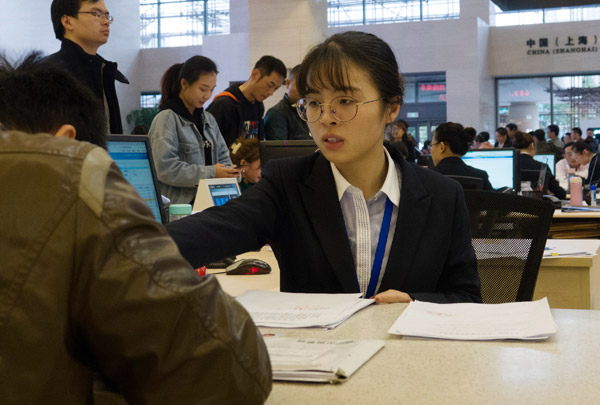 A business owner applies for a license at the Government Affairs Center of the Free Trade Zone of Pudong New District, Shanghai, on Nov 28. [Photo by GAO ERQIANG/CHINA DAILY]
"A fool's errand," a woman named Song Min sighed with a forced smile, standing in the busy hall of the Government Affairs Center of the Free Trade Zone of Pudong New District, after finding all procedures of registering a liquor store in Shanghai can be done online.
Her sigh is the most common lament heard here after the FTZ was set up in late 2013, said Jiang Hongjun, director of the center.
Apart from blazing the trail of reform in finance and trade, the Shanghai FTZ is tasked by central authorities with exploring reforms that simplify market entry for domestic and foreign investors and strengthening supervision.  
The market-entry registration of 74 enterprises, such as opening a grocery store or travel agency, can be completed on the internet.
"Even coming to the hall to process the procedures is much easier than before," said Li Wenpeng, who made his way to the hall to file records for his cosmetics import business.
Previously, Li needed approval from at least the industrial and commercial administrative department and customs and taxation authorities to apply for a cosmetics import license. He had to go one by one to each of the departments, which are at different corners of the city.
Now, all the departments' office systems are connected with the center, whose one-window-fits-all practice is highly praised.
Li said he prepared all the materials beforehand according to a checklist the center provides on its website. He needed only one trip to submit the materials to the center, not for a license, but just for the authorities to make a record of his business.
Previously, it took at least three months to obtain the license. Li only needs to wait five days to start his business.
Jiang said almost all affairs handled now in person are expected to be able to be done online by the end of next year, when different departments' databases are connected.
A conventional practice of starting a business is to obtain all certificates or qualifications - the most time-consuming process - before applying for a license. What the Shanghai FTZ has streamlined is how listed industries can directly apply for a license, and then just provide certain materials to keep the authorities informed of what they are doing.
Yet, an easy entry does not mean the quality of their products and services can be compromised, as these businesses must be subjected to meticulous supervision.
The goal "is to form a dynamic supervision system featuring the market subject's self-discipline, transparent operation, credit record keeping and the authorities' increasingly frequent spot checks," said Zhang Jianhua, deputy director of the Pudong market supervisory and administrative bureau. "It is almost impossible for business operators to take advantage of loopholes to evade supervision."
The bureau is extremely "sensitive and responsive" to consumers' complaints, and it maintains a rating system on every business in its jurisdiction that is based on multiple indicators, he added.
Thanks to the easy entry reform, more than 49,000 enterprises were founded in the Shanghai FTZ in Pudong during the first three quarters of 2017, and 40 percent of them are innovative businesses. That is 1.36 times the number of enterprises set up in the area over past 20 years.
More than 100 institutional reforms piloted by the Shanghai FTZ have been implemented nationwide. The FTZ has become a test field driving China's reform and opening-up, said a research report by the accounting firm PricewaterhouseCoopers.



Editor's picks