Customs seizes smuggled pangolin parts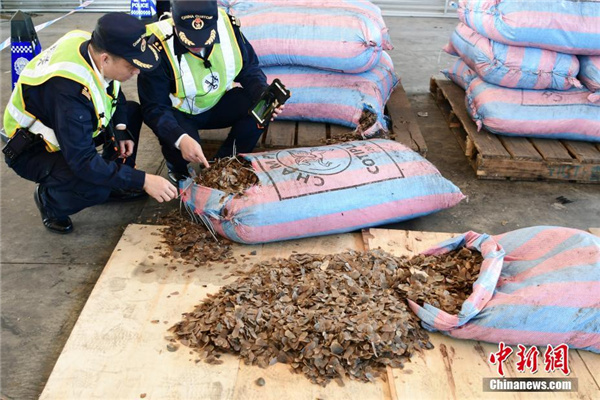 Customs staff check seized pangolin scales in Shenzhen, Guangdong province, on Nov 29, 2017. [Photo/Chinanews.com]
Customs officials in Shenzhen, Guangdong province, announced on Wednesday that they had intercepted 11.9 metric tons of pangolin scales smuggled from Africa, the largest volume of any single case found by border inspectors.
The scales were taken from an estimated 20,000 pangolins, a species listed last year in the Convention on International Trade in Endangered Species of Wild Flora and Fauna, which bans all international trading of pangolins and their products.
Two suspects in the case, one surnamed Li from Shandong province and another, He, from Anhui province, were the subjects of arrest warrants, according to Chen Qunfang, deputy chief of Dapeng Customs, which is affiliated with the Shenzhen authorities.
The case arose in July when customs officers found bags stuffed with charcoal in a container that had been declared as empty at Yantian port. The charcoal was used to cover 239 bags of pangolin scales.
Lacking full information from the shipping parties on the bill of lading, customs officers spent a lot of time identifying the suspects, Chen said.
Li and He were found to have made frequent money transfers totaling more than 5 million yuan ($758,000) around the time the case came to light.
During an interrogation, He admitted that he helped smuggle the pangolin scales at the request of Li, officers said.
Demand exists in China for pangolin scales as a food or as a traditional Chinese medicine ingredient, Chen said. Bozhou, Anhui province - He's native province - is home to one of the country's largest herbal medicine markets.
The low cost of procuring pangolin scales overseas, especially from Africa, has made the illegal trade highly profitable, Chen said. The scales will be destroyed after the trial concludes.
liwenfang@chinadaily.com.cn

Editor's picks