Fanning away smog, a pipe dream or a good idea?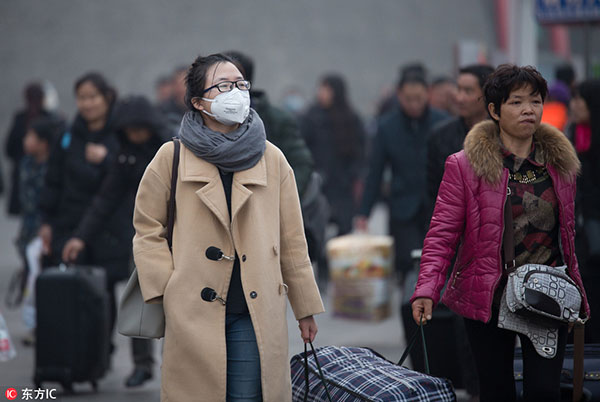 Passengers head home at a railway station in Xi'an, Shaanxi province, on a smoggy day, Jan 17, 2017. [Photo/IC]
To cope with the smog that has plagued North China for years, one man has come up with an innovative idea that might go beyond your imagination.
Du Honglai, a resident of Beijing, has applied for a national patent for his idea, which proposes the mobilization of all the city's residents to fan away the smog, according to a report from the Legal Daily.
Du said the approach requires 15 million people to wave a fan at the same time in the same direction, which can produce powerful winds. He said the new approach "not only is low cost and effective, but also generates no secondary air pollution".
According to his calculations, if 15 million people wave fans at the same time in the same direction for an hour, the air that occupies a space 40 meters high, 20 kilometers long and 20 km wide (roughly the area of downtown Beijing) will be expelled 68 km away.
Du calls for government agencies to offer a fan to all able-bodied people in the city to expel the smog during breaks from class and work, according to a report of thepaper.cn. 
In his application, Du has also designed fans in a variety of sizes that fit people of different ages and physical conditions.
But the man did not reveal whether he has done any experiments on his idea.
The patent application Du submitted in March has not yet been approved for substantive examination by the State Intellectual Property Office.
The website of the SIPO shows that Du has also applied for patents for his inventions including a timed mosquito killer and nose plug for swimming.
In 2016, Beijing's density of PM2.5, hazardous airborne particles measuring 2.5 microns or less in diameter, was 74 milligrams per cubic meter, double the health maximum of 35 mg per cubic meter set by the government.