Hots and nots for national civil servants exam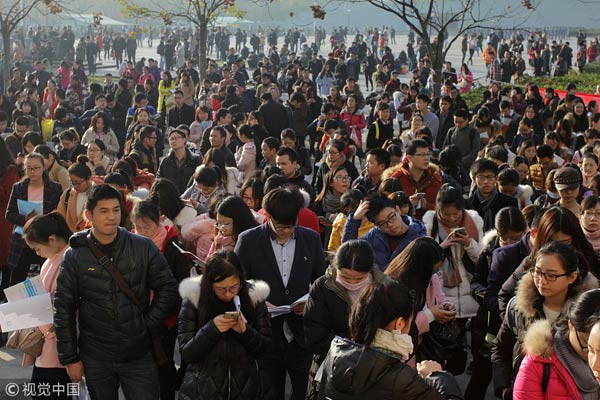 Applicants wait outside an exam center for the 2017 national civil servant exam in Wuhan, Hubei province, on Nov 26, 2016.[Photo/VCG]
Registration for the 2018 national civil servant exam, or guokao, is in full swing. Statistics show that there is a polarizing trend in applicants' choice for positions.
More than 28,000 central government employees will be recruited through the exam. As of Sunday, more than 720,000 people had signed up for the test, with the ratio of applicants to openings being 25 to 1.
The competition for some vacancies is heating up. Data from the State Administration of Civil Service shows that the most popular position is from the Liaison Office of the International Cooperation Department of the China Family Planning Association, with 1,198 applicants competing for one vacancy.
But this is dwarfed by a position from the China Democratic League Central Committee in last year's exam, which drew interest from 3,771 applicants.
Positions in taxation agencies are popular as usual, with vacancies in several provincial taxation bureaus ranking among the top 10 most popular jobs.
In a stark comparison, some positions are given a cold shoulder.
More than 3,600 positions have a ratio of qualified candidates to vacancies of lower than 3 to 1. Among them are 853 positions without any applicant.
Most of these less-popular jobs are in underdeveloped areas or demand grassroots work experience, scaring potential applicants away.
This year's guokao, scheduled on Dec 10, is expected to see a record number of candidates. Last year, nearly 1.5 million people signed up for the exam, with only one out of 36 candidates hired, according to the Ministry of Social Security and Human Resources.