CPC-themed books gain global attention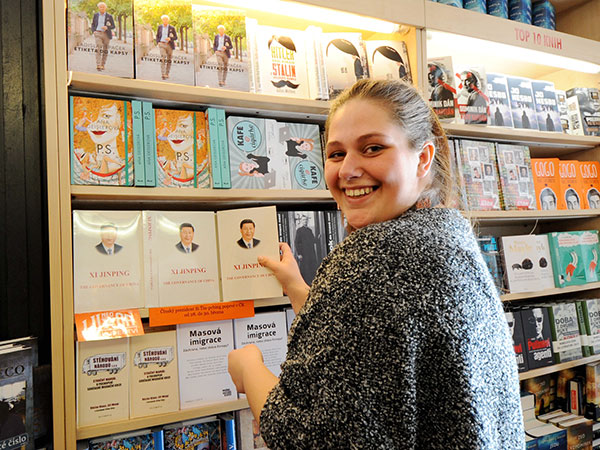 Xi Jinping: The Governance of China joins best-sellers at Neo-Luxor bookstore in March, when Chinese books were displayed in Prague, Czech Republic. PENG DAWEI/CHINA NEWS SERVICE
A book of anecdotes by President Xi Jinping has sold nearly 1.5 million copies in less than four months. Another book, Xi Jinping: The Governance of China, has sold 6.42 million copies in 21 languages in more than 160 countries and regions, and is about to mark its third anniversary.
For Zhou Huilin, deputy chief of the State Administration of Press, Publication, Radio, Film and Television, such sales show how China has opened a window for readers from home and abroad to understand the country through themed publications.
These publications refer to titles on the theories, policies and strategies of the Communist Party of China, as well as the achievements of socialism with Chinese characteristics and the Chinese Dream.
"As China's comprehensive national power rises, more countries and readers are eager to learn about the world's fastest growing economy, the world's largest political party and the leadership that oversees both," Zhou said. "Introducing good themed publications is an important way to boost China's soft power, clearly answer questions for readers worldwide and boost our country's image and influence."
For the first time, the government worked out a special plan for themed publications as part of its 13th Five-Year Plan (2016-20) for publications.
In May, the administration outlined 97 major titles for themed publications for 2017, including those involving strict Party governance and the major governance achievements of the country within the past five years.
The book of anecdotes as told by Xi, published by the People's Publishing House, includes over 100 anecdotes taken from hundreds of Xi's speeches and articles, as selected by People's Daily.
"These vivid stories, which embody Xi's profound thinking on civil, political, diplomatic and national defense affairs, as well as governance of the Party, the country and the military, have opened a window to the essence of Xi's remarks," said Yang Zhenwu, president of People's Daily.
Since it was first published in June, copyright sales for the book in English, Japanese, Russian and Vietnamese have been authorized.
"A story is better than a thousand dry arguments," said Yang Jingjie, an undergraduate at Beijing Foreign Studies University.

Editor's picks