Air ambulance saves time and lives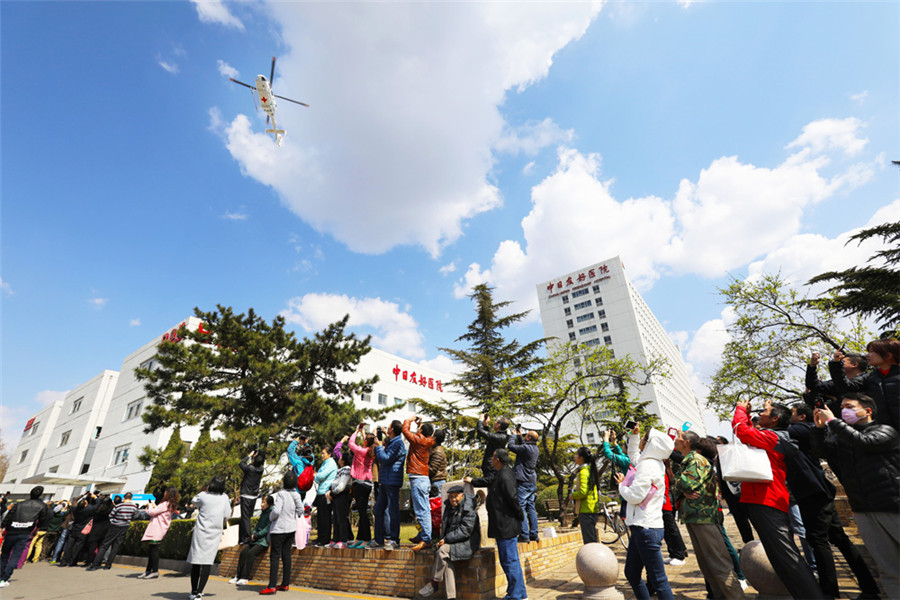 The air ambulance carrying Sun Xiaoming prepares to land at the China-Japan Friendship Hospital in Beijing on March 26. [Photo by Zhu Xingxin/China Daily]
Sun Xiaoming, 35, had never left ground until being loaded into a medical helicopter on March 26.
The air ambulance transported Sun, who had been in a coma for five days, to the China-Japan Friendship Hospital in Beijing, and the noise of the chopper was so loud that patients and their relatives came out to watch it land.
If Sun had been transported to Beijing from his home in Raoyang county of Hengshui, Hebei province, via an ambulance instead of a helicopter, it would have taken at least three hours to cover the distance of more than 250 kilometers. However, with the medical helicopter, the trip took only around 40 minutes.
Last winter, Sun started to have difficulty breathing but didn't think twice about it. However, his symptoms worsened and, in the week before flying to Beijing for treatment, he was treated at a local hospital. But Sun had a high fever and fell into a coma.
"I am usually busy at work and often stay up late. And I also like drinking and smoking," Sun said. "Maybe the unhealthy eating and living habits made me fatter and fatter."