Millionaire goes home to change villagers' lives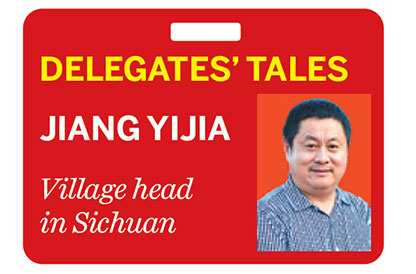 Gongshi was once an impoverished, isolated village where most residents lived in squalid homes with thatched roofs.
Yet that was before Jiang Yijia, a self-made millionaire, became the village head.
Now, it is filled with new residential buildings and wide cement roads that allow locals easy access to the rest of Pengxi county in Sichuan province.
Jiang, 59, was born in Gongshi to poor farmers, and was one of six children. He remembers always being hungry as a child.
"For three meals all we had was a bowl of water with several sweet potatoes and several grains of rice," he said. "I dreamed of leading a life with ample food."
When Jiang turned 20, he enlisted in the People's Liberation Army. After serving for 19 years, he was demobilized and given a settlement of 80,000 yuan, which he used to start a business.
The entrepreneur went on to launch ventures in Beijing, the Inner Mongolia autonomous region and northeastern China, trading in food items and transporting goods across the country.
By 2007, Jiang was a multimillionaire, and he decided to return home to help lift the residents of Gongshi out of poverty.
"Leading the villagers onto the road to prosperity will be the last meaningful thing in my life," he said. "I started my life in the village, and I will end it here."
He said he initially spent more than 10 million yuan ($1.5 million) of his own money to build cement roads, water conservancy facilities and a recreation center in the village, as well as helped farmers to adopt modern agricultural methods.
To boost the incomes of local families, Jiang said he has tried many things. For instance, when he learned that keeping an ostrich can bring in 1,200 yuan a year, he bought 500 ostriches and gave them to villagers.
"One ostrich egg can sell for more than 100 yuan," he said, adding that as the birds like eating rye grass under walnut trees, he encouraged residents to build 67 hectares of walnut forests.
He also helped build a flower nursery, fish pond and a bee farm with 300 hives.
Thanks to his efforts, incomes have risen sharply, Jiang said, while nearly all of the villagers have moved to new residential buildings.
With villagers now better off, Jiang spent another 7 million yuan to construct a public building covering 4,000 square meters that includes a library, classrooms for multimedia training and calligraphy lessons, and a gymnasium.
Although Jiang chooses to live in his home village, his wife, Yang Feiting, and their daughter have remained in Beijing.
"I've tried many times to persuade him to leave the village, but he always turns me down," Yang said.
She visited the village for the first time during the Spring Festival holiday in 2013 and said she was shocked to see the cement roads, new buildings and orchards.
"They all show the amazing efforts that Jiang and the villagers have made," Yang said, adding that when she left to return home, the locals gave her gifts of salted duck eggs, bacon and other local specialties.
"Their kindness is recognition of Jiang's efforts in the village," she said.